I always have several books on the go, I'm always learning. Whether you're new to the EMF world or just always looking for more info and research then check out my list of the best books on EMFs.
1. The Non-Tinfoil Guide to EMFs: How to Fix Our Stupid Use of Technology
If you only read one book about the dangers of EMF then read this one, I give it a 4.7 out of 5 star rating.The Non-Tinfoil Guide to EMFs is well written, comprehensive, packed with independent scientific evidence, and full of easy to implement solutions. It will push you to change your lifestyle.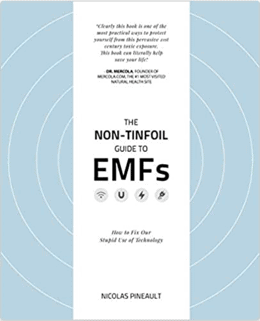 Dr Joseph Mercola, brilliant Dr and widely respected in the natural health world, wrote an editorial review for this book and said it is, "the most practical and useful [of all the EMF books he has read].
It contains everything you need to protect yourself."
The author, Nick Pineault is one of the leading voices on EMF pollution and how it affects our health. He writes in a conversational style that's easy to understand.
He really explains everything you need to know without you having to read volumes of books or research articles.
Seriously. Buy this book. It is a must read.
2. EMF*d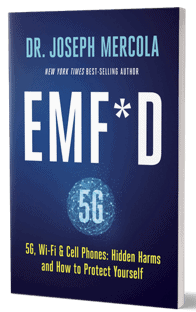 In EMF*d, Dr Mercola breaks down how to protect yourself from the effects of harmful EMF radiation.
This book has helped countless readers recover from symptoms associated with EHS by implementing Dr Mercola's strategies to reduce EMF exposure.
This is a well written and organized book on the history, science, industry, politics and effects of man-made EMFs. Dr Mercola really breaks it down so anyone can understand EMFs and their impact on people and the environment.
Dr Mercola is an osteopathic physician and huge name in the alternate health world.
He's a New York Times bestselling author and has won multiple awards in the field of alternate health. Definitely a voice worth listening to.
Audio Book – Emf*d
If you don't the time to read or you just like audio books then check out EMF*d: 5G, Wifi, and Cellphones audio book. Written Read by Christopher Ragland, this book is 8 hours and six minutes long.
3. Radiation Nation: Fallout of Modern Technology – Your Complete Guide to EMF Protection & Safety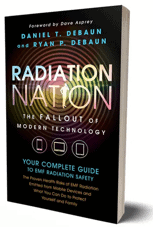 Radiation Nation by Daniel T DeBaun is an inexpensive book for those new to the world of EMF radiation and wanting to learn about the harmful effects your cell phone and other electronic devices have on your health. It is informative, easy to understand and a quick read.
Based on scientific research, DeBaun also focuses his book on the long and short term effects of EMF exposure on our children.
The author is also the inventor of Defendershield, a very popular and effective brand of EMF protection for electronic devices.
4. DIY EMF Home Inspect Guide
This DIY EMF Home Inspection Guide: Learn How to Eliminate Harmful Radiation From Your Home shows you step by step how to easily do a home EMF inspection.
It teaches you how to detect dirty electricity, radio frequencies, magnetic fields, and electric fields in your home and how you can eliminate or reduce them.
It's much cheaper than hiring someone to do an inspection for you and you can follow his steps to re-assess as needed.
The author, Brian Humrich Ph.D., is a widely recognized EMF expert and has suffered from EHS, which got him on this journey.
He has been conducting EMF home inspections for years and is currently working on building an EMF free community. He is a really helpful guy and if you have any questions about your home inspection, you can email him for support.
5. EMF Practical Guide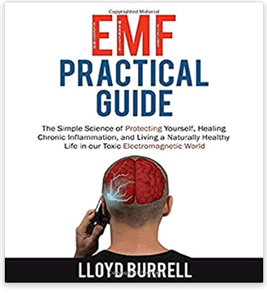 The EMF Practical Guide: The Simple Science of Protecting Yourself, Healing Chronic Inflammation, and Living a Naturally Healthy Life in our Toxic Electromagnetic World is clear and straightforward.
Lloyd explains the science behind EMF radiation and gives examples of people whose lives and health have actually been negatively affected by it. This book is thorough, easy to read and full of references.
You'll learn the truth about 5G, dangers of dirty electricity, Wi-Fi, RFs, Microwaves, and Gama Rays. It prevents practical solutions to reduce your exposure, and improve your symptoms as well as ongoing online support from Lloyd himself.
Lloyd Burrell, the author, struggled with symptoms of EHS for 10 years before finding a way to heal himself. He has since helped thousands of people through his books, website, podcasts, digital summits, and education.