Shield Your Body is one of the best companies in the EMF space. With a lot of companies, you know they're just trying to make money. But with Shield Your Body, R Blank, the CEO, really wants to help people. His goal is to make technology safer for you to enjoy and for everyone to have a healthier relationship with technology.
Blank started learning about EMFs in the 1980s. His dad was Dr Martin Blank, a leading activist, and internationally renowned scientist and researcher on the effects of electromagnetic field radiation.
You can see R's passion for EMF protection through his products and the info he's trying to get out to the world. His website has so many resources, links to research, a podcast, a free app, courses, consulting, testing resources, etc.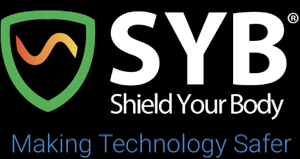 SYB products have been around for 10 years and I have been happy with the superior quality and effectiveness of every SYB product I've purchased.
You can find their test results for all their shielding material on their site.
SYB's SaferBody shielding technology is tested in multiple independent labs, shielding up to 99% of EMF radiation, including low frequency EMFs.
Some of the SYB Products I Love
I own quite a few SYB products now and hope to own one of everything one day. I want to share with you some of their blocking products I love. Feel free to check out their site to find the best products for you.
1. Faraday Bed Canopy
SYB's canopy is my number one recommended canopy. It's also what I use around my bed at home.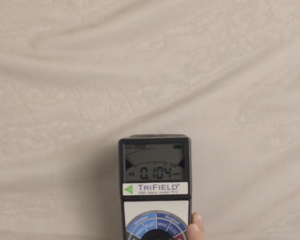 This is one of the only canopies that comes with a shielding floor mat so it will protect you in every direction. It's like sleeping in an EMF-free bubble.
We find we sleep better, have more focus and energy during the day. Others have reported improvement in aches and pains and fewer EHS symptoms.
This canopy is really light and spacious, can either hang from the ceiling or go on a canopy frame, comes in several different sizes, and is machine washable. They also have a crib/corner canopy. All important things.
It doesn't have to be grounded, which is a bonus. Some canopies do and some are more of a hassle with hiring an electrician to do this.

Of course it's been lab tested for 5G and RF up to 26 GHz, blocking 99% of harmful electromagnetic radiation.
Important to note – do not use your cell phone or devices inside your canopy because the signal will be trapped in it and around you.
2. Phone Pouch
The phone pouch was SYB's first product back in 2013. Probably one of the first of its kind.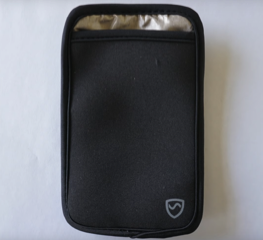 The back has shielding fabric to block your cell phone's signals up to 20 GHz (including 5G) from your body.
The front is just neoprene, so you can still get signals to your phone and the radiation is directed away from your body.
Not that I recommend you keep your phone in your pocket, but at least this way there's something protecting your organs from the RF radiation.
The top is open so you can use anti-radiation headphones with it – keeping signals away from your head.
It has a strap on the back. I don't use it. I feel like that's part of the original design and should probably be changed. I don't know too many people strapping their smartphone to their belt.
But it could be handy if you're strapping the pouch on for a workout, going for a run, or really any kind of exercise. 1000% better than being tucked in your bra or back pocket.
It's a great price, great product, well-made and will probably last longer than your phone. It comes in different sizes to fit most mobile phones and comes in a number of colors too.
3. SYB Backpack and Sling Bag
My wife hates wearing a purse. Instead, she uses SYB's sling bag as a sort of in between purse and backpack. I love that she's shielding herself from cell phone radiation.
The back side of the bag is shielded with SaferBody nickel and cobalt alloy to block your body from absorbing RF signals, including 5G. But it's not a full Faraday cage, which would block signals to your phone.
You'll want to keep in mind that the radiation still emits from the other side.
Because of how the bag fits, there's RF radiation in front of you or directly behind, but distance reduces EMF exposure. Just something to keep in mind if you have little ones.
Made of really high quality and water-resistant materials, this bag is designed to last. It has 3 compartments, all with zippers to fit tablets, cell phones, and most portable technology. It's a good size to fit what you need but not too bulky. My wife's review is that she loves it. I'm more partial to the backpack and my SLNT man bag personally, but it is another great product by this company.
4. Laptop Pad
I use this shielding laptop pad all the time. I use it on my desk so my organs are protected underneath it. And I take it with me when I travel. I do hope to have more kids after all.
I don't recommend you use a laptop on your lap but this will shield signals from reaching underneath it if you or your teenagers do.
It's small and portable, comes in two sizes; 14 inch and 17 inch and a few different designs. This pad is made with SaferBody™ platinum steel with shielding from WiFi, Bluetooth, ELF magnetic radiation, and heat emissions from your computer.
It's lab tested of course, and I've tested it myself with my Trifield meter so I know from my own experience it works.
It's one of SYB's best selling products and is highly rated. I've used mine for a couple years now and it still looks and blocks like new.
5. Shielding Baby Products
Doing baby research when my wife was pregnant with our daughter is what led us down the rabbit hole of EMF hazards in the first place.
SYB has an EMF baby blanket, beanie, and a smaller sized shielding canopy that could fit around a crib.
SYB Baby Beanie
We had several sizes of the SYB baby beanie for our youngest. Unfortunately, it only goes up to 24 months. I need them to get making some toddler and kid sized ones for us.
It's so soft and adorable. Made of cotton, silver fiber and nylon with 360° protection. It's lightweight so you don't have to worry about your baby overheating.
SYB's beanie is machine washable, which is really important. A lot of EMF clothing products are hand wash only and nobody has time for that with a baby.
Ours still look great. No pulls or stretching and still block all signals. They will definitely will be passed down to future children and to my siblings whenever they have babies.
Anti-Radiation Baby Blanket
We also bought Shield Your Body's blue polka dot baby blanket for our second born. It's something he still sleeps with, travels with, has in the car with him, and takes to Grandma's house.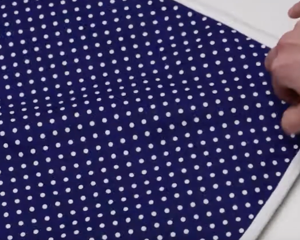 It's machine washable and dryable and has held up through a ton of washes in our home.
Made of hypo-allergenic flannel and non-toxic dye, it's soft, warm, a great size for little ones, and you can tell it's made with high quality material and stitching. It's guaranteed for life.
The outer layers are flannel but inside is a silver and cotton shielded layer that blocks up to 26 GHz. Great for throwing over your stroller while out for a walk in the city, for swaddling or covering your little one while you use your device near them.
6. Shielding Picture Frame Liner
I love that SYB has a shielding picture frame and shielding material to go in your own picture frames to block EMF emitting devices on the other side of a wall, like a smart meter or router.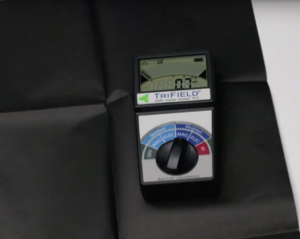 This is just another example of how R Blank is really thinking about the best ways to use technology in safer ways and keep us healthier. People aren't going to turn their homes into tinfoil boxes but using art to keep us healthier is amazing.
Made of SaferBody™ Nickel Sheen, this blocking liner goes in the back of a large picture frame to block specific items on the other side of your wall. It comes in two sizes and you can cut it to fit your frames.
No one will know it's there but it will provide a small shield for RF signals up to 50 GHz and 5G.
This is a great option if you're renting and can't use EMF paint or if you really just need to block the space next to your chair or desk from a specific signal through the wall.
We gave this liner to my mother-in-law to put behind her living room art that's on the same wall as her smart meter. She doesn't want to use a guard or EMF paint so it worked for her.
So Many Great Products
There are so many more products I could mention here, like SYB's air tube headsets, which are great and a reasonable price or their Headset Anti-Radiation Device. I believe it's the only one like it on the market that turns any wired headphones into anti-radiation ones.
My biggest con with this business is that the products are expensive. They're going to cost more than the no-name shielding items on Amazon. But at least you know they're going to last and they're going to work. And if there's damage, they come with a lifetime warranty as extra insurance.
Check out the shop on Shield Your Body's website for more details on the above products, other best sellers and so many goodies.
About R Blank, SYB's CEO
R (Ari) Blank is the founder and CEO of Shield Your Body. He has an MBA from UCLA and a huge background in technology. He's an entrepreneur, author, and technologist. And not that it matters, he lives in Las Vegas.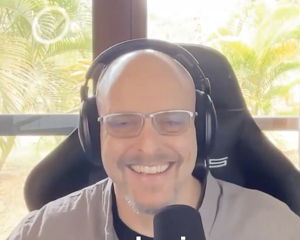 Before SYB, he was a software engineer for 20 years, running his own firm with some big-name clients like Microsoft and Apple. He taught software engineering at the University of Southern California.
His father was Dr. Martin Blank who was one of the most important EMF scientists, researchers, and renowned EMF safety activists. He produced so many studies proving the harmful effects of electromagnetic radiation. Unfortunately, he passed away in 2018 at the age of 85.
He really influenced how I thought about EMFs after reading his book, "Overpowered" and had a huge influence on scientists around the world. So it's no wonder his son is also so passionate about EMR, educating the world, and making technology safer.
Courses
Besides amazing products, links to research studies, great information and educational resources, SYB offers courses on their website, including Fly Healthier and The Sleep Easy Method.
Taught by a certified EMF Specialist, Building Biologist, and Holistic Nutritionist, you get one year unlimited access to the course. In your account you'll find video modules, PDF guides, handouts, bonus content, etc.
Fly Healthier Course – All about keeping you healthier and protected while traveling. I highly recommend this if you travel frequently. You're flying in a Faraday cage with WIFI, cellular, Cosmic Radiation, etc intensified all around you. It's no wonder people feel "jet-lagged."
The Sleep Easy Method – How to actually get a good night's sleep and feel energized again. This course also comes with expert interviews, recipes and worksheets. And has videos for more complicated issues. I feel like everyone would benefit from this.
Hopefully there's more to come.
R Blank's Podcast
R Blank hosts a podcast called, "The Healthier Tech Podcast." He started it in 2020, when everyone became stuck at home and glued to their screens, as a way to help people have a better, healthier relationship with technology.
You can listen to episodes on the healthier tech website here or on Spotify, Apple Podcasts, or Amazon Music.
EMF Books
R helped his father, Dr. Martin Blank, write the book, "Overpowered: The Dangers of Electromagnetic Radiation (EMF) and What You Can Do About It."
Written in 2015, it's an in-depth look at the science behind the harmful effects of electromagnetic fields. It really breaks down the research so anyone can understand the thousands of studies out there on the danger of electromagnetic radiation.
Unfortunately, it was written pre 5G rollout, so it's a little outdated to today's technology. I'm sure Dr Martin Blank would have had a lot to say about 5G if he were alive today.
SYB EMF Health Effects App
On top of having great products, an interesting podcast, and valuable content on their site, SYB also has a free app called the SYB EMF Health Effects App.
Blank, like me, recommends everyone get an EMF meter (see my buying guide here). His app helps you to understand the readings better. Whether the reading exceeds ICNIRP guidelines and where the exposure stands according to the Building Biology Institute guidelines.
Then you'll see a list of research studies you can read that show the health risks of exposure at the level you have on your meter.
It's super easy to use, free and available to download on the SYB website.
Wrapping It Up
It's great that more companies are using RF shielding technology and new products are popping up every day. Unfortunately, not all these products actually work.
So you want to go with reputable brands that actually test their technology and stand by their products, who have great feedback and reviews, and are about more than just a profit.
For all these reasons, SYB is one of my top EMF protection brands and I will continue to buy their products and recommend them to others as well. I also love DefenderShield. You can learn more about this company here.
References
https://www.linkedin.com/in/rblank9
https://www.popsci.com/breakdown/article/2008-06/electric-aviation-experience/
https://ehtrust.org/dr-martin-blank-1933-2018-a-man-who-emanated-goodness/