Whether you're a frequent user of Faraday bags, or you're just learning about their protective qualities, you might find yourself overwhelmed at the number of options currently on the market. The best Faraday bags offer protection from EMFs, EMPs, data security, is RF blocking and more.
Faraday Bag Buying Guide
If you're stuck on which to purchase, don't worry. Below, we will go over my top Faraday bag choices for all of your devices. If you are looking for a particular Faraday bag you can skip to any of the following section to find my top choices in each category.
Here are the links to skip ahead for great Faraday bags for phones, duffel bags, key fobs, laptops, waterproof/dry bags, solar panels and XL electronics, computer towers and XL electronics and portable generators and XL electronics.
Utilizing our guide, and keeping your own personal preferences in mind, you'll find the best bag to keep you safe and secure for many years to come.
Best Faraday Bags for Phones
1. Silent Pocket Smartphone Sleeve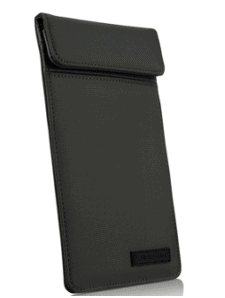 The Silent Pocket Faraday bag is my top choice Faraday bag for smartphones. This case features the patented Silent Pocket Faraday Cage technology to instantly block wireless threats and radiation from cell phones. The magnetic closure makes it easy to slide your cell phone in and out.
It is clean, sleek, stylish and versatile and has a modern design with a professional look.
I like that it comes in two sizes to fit pretty much any smartphone.
Two Sizes:
The small sleeve measures 15.5 cm x 9 cm and will work perfectly for iPhone 6/7/8/X/XS, Galaxy S.
The medium sleeve measures 19 cm x 11.5 cm and is prefect for larger phones.
Available Colours:
This sleeve is available in black leather. The Nylon version comes in black, black came, blue, grey, light grey, military green and red.
Most importantly, it will blocks all signals to protect from hacking, tracking, and data extraction. It comes with a 100% money-back guarantee.
2. Mission Darkness Non-Window Phone Bag
This Mission Darkness faraday bag is a great, military tested and certified option to protect your privacy and data.
These Faraday bags are designed specifically for military and law enforcement investigators, and you can get the same level of security for a reasonable price.
It features:
A universal fit for cell phones
100% RF blocking bag
A unique serial number that will allow for asset tracking
It's even built with a water-resistant outer material, so you don't have to worry about your devices getting wet.
Best Faraday Backpacks
1. Mission Darkness Dry Shield Backpack 40L
If you're looking for the best Faraday backpack, you'll want to start by checking out this Mission Darkness Dry Shield backpack first.
With a 40 litre capacity this bag flexes to fit bulkier devices and accompanying accessories.
This Faraday bag has an ultra durable exterior. This bag is waterproof, sand proof, dirt proof, snow proof, contaminant proof and most importantly signal proof.
In fact, it's fit with waterproof 500D PVC and two layers of TitanRF faraday fabric.
It also provides a large capacity that can fit several of your electronic devices. The inside dimensions measure 20″ x 11″ round which will fit:
Large laptops
Portable power stations
Radios
Tablets
Cell phones
Hand-held electronics
Survival gear
With adjustable shoulder, chest, and waist straps, and an assortment of unshielded MOLLE pouches, rest assured that this backpack is as tactical as it is technologically savvy. This bag is unhackable, untraceable and EMP protected.
2. SLNT Waterproof Backpack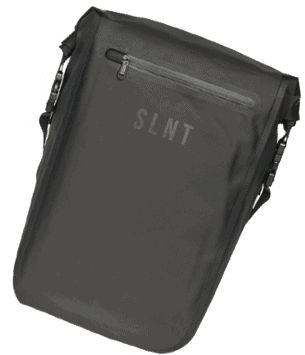 A slightly less expensive backpack option, this one from Silent Pocket is both signal proof and waterproof, and is backed by the US Government and Global Enterprise Companies.
This Faraday bag is made from durable Rip Stop 400D Nylon TPU that's been welded with RF seams to keep your devices safe from signals and everyday wear and tear.
If you're looking for a product with a guarantee of satisfaction, you're going to want to check this one out. They offer a 100% money back guarantee for this product.
Best Faraday Bag For Key Fobs
1. TICONN Bag for Key Fob (2 Pack)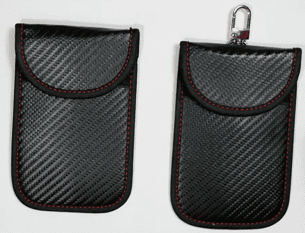 This Faraday bag for car keys from TICONN  are specifically designed to keep your car keys protected. Keyless entry is great but unfortunately it has opened the doors to thieves who might be trying to break in and steal your car.
This bag is convenient, easy to carry, and comprised of premium carbon fiber and two-layers of shielding material.
This key signal blocker is available in three variations, making it a great option for anyone looking for additional customization.
It also comes with a key chain hole for additional convenience, and a smaller front pocket that can be used for ID or credit cards.
2. Disklabs Key Shield (KS1) Bag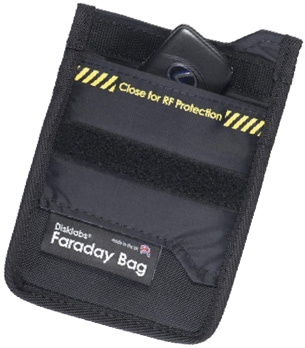 A slightly more expensive Faraday bag key fob protector, this Disklabs Key Shield product is accredited and has been awarded the Police Approved "Secured by Design" award.
This Faraday bag is specifically designed to keep anyone from entering your car via outside interference.
It blocks all wireless signals, from Wi-Fi to GPS and everything in between.
Top Faraday Laptop Bags
1. Mission Darkness Non-Window Laptop Bag
For those who want to keep their laptop safe from outside interference, look no further than this Mission Darkness laptop Faraday bag.
As with the other Mission Darkness bags, it's military-grade and used by many top ranking officials.
This Faraday bag for laptops also guaranteed to keep your device safe in the event of an EMP blackout, as well as block them from any radio frequency signals.
It comes with several additional features, including a serial number for tracking purposes, built-in water-resistance because of its ballistic nylon outer material, and its two-layer interior made of high-shielding TitanRF fabric.
For Tablets
1. Silent Pocket Tablet Sleeve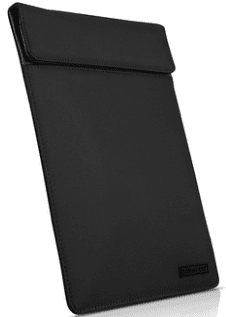 What's nice about this Faraday bag for tablets by Silent Pocket is your ability to choose. If you're looking for a nice, leather option, you can pay a little bit more.
Or, if the waterproof option tickles your fancy, you can go that route.
Besides this, the Silent Pocket bag will keep your tablet or small laptops safe with their patented Faraday Cage system.
It also provides EMF protection, and is made of high quality materials. And, best of all, the Silent Pocket company offers a 100% money back guarantee.
Top Faraday Waterproof Dry Bags
1. SLNT Waterproof Dry Bag
This Faraday waterproof dry bag from Silent Pocket comes in three size options 2.5L, 5L or 10L. They are made from their patented system.
It is 100% signal proof and waterproof, as well as made from durable Rip Stop 210D Nylon TPU.
Take these Faraday bags camping, hiking, fishing, to the beach, on a picnic, to the gym, or even to work if it's a rainy day! You can trust in Silent Pocket, and their 100% money back guarantee.
2. Dry Shield Tote
Finally, if you want a dry Faraday bag to protect your devices from the elements and potential hackers, check out this Mission Darkness Dry Shield Faraday Tote (15L).
It will 100% block any radio frequency signals from your devices, as well as keep them safe from the inclement weather and water. Safe from rani, snow, or any other contaminants.
This is a quality product, made up of black waterproof 500D PVC and two layers of TitanRF Faraday fabric. Plus, it also features an adjustable and detachable shoulder strap, a transparent from zipper pocket, and a roll-down/clip shut closure.
Best Faraday Duffel Bags
1. Mission Darkness X2 Duffel Bag
If you're looking for to protect something larger, you'll want to check out the X2 duffel bag from Mission Darkness.
Their X2 Duffel bag is another military-grade Faraday bag build with water-resistant ballistic nylon, and two interior layers of TitanRF shielding fabric.
This product is MIL-STD-188-125 certified and guaranteed to protect against EMP pulses, and a detachable MOLLE pouch.
That pouch will protect your devices in the occurrence of an EMP or CME event.
It also features a large capacity, with a 26″ x 13″ x 13″ main duffel capacity, and a detachable 8″ x 6″ x 2″ MOLLE Faraday pouch. You'll be able to fit phones, laptops, tablets, GPS units, two-way radios, and even medical equipment!
If you want a Faraday duffel bag that it designed for and actively used by military and law enforcement officers, and government and executive travel.
2. OffGrid Duffel Bag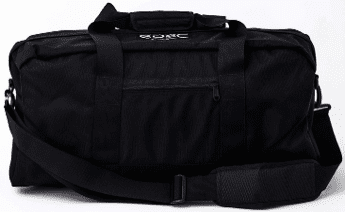 Offgrid's duffel bag has built in signal-blocking and anti-spying compartments for your cell, tablet, and key fob as well as an extra large central secure space.
These Faraday bags are made of durable and weather resistant fabric with the highest multi-layer RF signal attenuation on the market.
This is bag is great for storage in your home or for travel. It keeps everything organized but most importantly safe from hocking and radio frequencies.
Number 1 Faraday Bag For Solar Panels or XL Electronics
1. Mission Darkness Eclipse
The Eclipse extra large bag by Mission Darkness has a spacious interior compartment that accommodates standard size portable solar panels, survival equipment and other large electronics.
The dimensions of this bag are 43 inches long by 7 inches wide by 30 inches high.
Quality Construction
Built with three layers of high-shielding TitanRF fabric lining the interior plus a durable ballistic nylon exterior.
Reinforced Webbing and Handles
Heavy-duty reinforced nylon webbing and handles support the weight of heavy objects inside.
Lab Tested and Certified
IEE 299-2006 provides shielding effectiveness confirmation. MIL STD 188-125 preserves the working integrity of electronic devices in the even of EMF or CME.
Extra Large Bags Faraday Bags
1. Generators and Extra-Large Electronics (1060L Capacity)
The Mission Darkness Dry Shield Rapture is for extra large items with it's 1060L Capacity. It will fit portable generators plus accompanying accessories, survival gear, seized evidence with embedded trackers and bulky electronics.
It's capacity flexes to accommodate wide or tall items with the usable dimensions of 60 inches long by 36 inches wide by 30 inches high or 60 inches long by 30 inches wide by 36 inches high.
It features a 100% waterproof zipper closure and 500D PVC other shell with welded seams keeping your items inside protected from elements such as water, snow, sand, dirt and contaminants.
It's made from three interior layers of high-shielding TitanRF fabric preventing RF signals from penetrating. The heavy-duty reinforced nylon webbing completely wraps around the sides and bottom for extreme support.
There are two release valves to eliminate excess air and multiple handles and pull straps. It comes with a removable 3′ x 5′ rubber base mat.
2. Generators and Extra-Large Electronics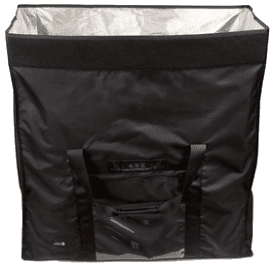 The Mission Darkness Revelation is another good choice for extra large electronics and things like generators. It is smaller than the Rapture mentioned above. It measures 30 inches Long by 23 inches wide by 22 inches high.
These Faraday bags are made from high shielding materials that direct damaging electromagnetic fields away from sensitive electrical components. Electronic devices stored inside remain untrackable, unhackable and impenetrable to EMF destruction.
Computer Towers or XL Electronics (50L Capacity)
The Mission Darkness T10 bag is my top choice Faraday bags for shielding computer towers or other extra large electronics. With it's 50 liter capacity it can accommodate bulky electronics plus accessories.
This bag can flex to fit wide or tall items with the interior usable dimensions of 15 inches long by 11 inches wide by 18.5 inches high.
This bag is built with three layers of high-shielding TitanRF fabric lining the interior plus a durable ballistic nylon exterior. It has heavy duty reinforced nylon webbing to support the weight of heavy objects.
Featuring Molle Webbing on Front and Side
Easily attach any MOLLE-compatible packs, gear or accessories.
Some common uses for this bag are computer towers, power tools and survival gear, radios and communications devices, compact generators and solar panels, multiples laptops and handheld devices, drones, etc.
Who Needs The Protection
Anyone who is interested in protecting their personal information and their electronic devices from hacking, tracking, EMFs and EMP proof (electromagnetic pulse). They are commonly used by:
Law Enforcement and Military Forensic investigation
Federal and military clandestine OPS,
Anti-hacking, anti-tracking and anti-spying assurance
Government and execution travel protection
They are used in secure facilities, device management and compliance and to prevent damage by electromagnetic pulse coronal mass ejection solar flare protection.
Luckily these products are affordable enough for anyone in the world to have access and protect their electronic devices.
Frequently Asked Questions
Here are the most common questions I get asked about these pouches and bags.
What Are These Bags?
Faraday bags are military grade bags that blocks RF signals from being received or sent by any electronic device within the bag. Named after the inventor of the Faraday cage, Michael Faraday, these bags are often extremely durable and come in a wide variety of sizes to suit all your needs. 

They protect you from hackers, trackers, identity theft, and EMF radiation.
Faraday technology is used by the military to build top secret buildings to prevent surveillance. EMF radiation can't penetrate through it including WIFI, Bluetooth, radio waves and all other wireless technology. Large Faraday cages are used for data centres to shield them from an interference problem.
How To Use It?
After you buy a high quality Faraday bag from a reputable seller all that you have to do is put your devices inside the bag and make sure it is sealed properly.
Do They actually work?
Yes, as long as you buy from a reputable business. Faraday bags block cell signals, wifi signals, GPS signals, bluetooth signals, most RFID signals and then provide EMP shielding.
Do They Block Phone Calls?
Yes, Faraday pouches and bags block all cellular signals (and bluetooth) so you won't be able to take a call if your phone is in your bag.
Do They Block 5G?
Faraday bags block RF radiation from 0-10GHz and since the 5G network currently falls within this range, these anti-radiation bags block against 5G.
Do I Really Need One?
Yes if you want an anti radiation bag and to shield your devices from external attacks from hackers. Faraday bags provide protections from outside signals that attempt to access your devices to alter, delete or added to your devices.
Do Pouches Stop Working?
If you purchase a high quality Faraday pouch then no they shouldn't stop working. If you buy a cheaper bag the mesh can become damaged by taking your keys in and out often.  You should test your pouch often and you can easily do this with your keys by seeing if you can unlock your car while the keys are in the pouch
Do They Protect Against EMP?
Yes, if the Faraday bag is well constructed. If you put your electronic devices inside a high quality bag they will be shielded and protected from EMPs.
What Are The Drawbacks?
One potential draw back is that your phone signal is completely blocked so you won't be able to receive any calls or text messages. But this is the entire point of using one but some people misunderstand their function.
What Are The Benefits?
The benefits of Faraday bags are to keep your devices completely off grid and protected from an EMP blast. While your devices is in the bag it can't be tracked or hacked.
Are There Different Types?
Yes, it depends on what electronic device you want to protect and what size it is. Most bags are specific to the device but you can find some that hold multiple devices at the same time.
How To Make One?
You can buy Faraday fabric and create your own enclosure just make sure it's completely sealed.
8 Faraday Facts
These bags are an electromagnetic shielding device used to block electromagnetic fields.
Named after English scientist Michael Faraday, the bags are made of conductive materials such as metalized fabric, metal foil, or conductive paint.
They are used in a variety of applications, including protecting electronic devices from electromagnetic interference (EMI), shielding sensitive electronic devices from external electromagnetic fields, and storing electronic devices in a safe environment.
EMI can damage electronic devices and cause data loss.They can be used to protect devices from EMI by creating a barrier between the device and the electromagnetic field.
They come in a variety of sizes, depending on the size of the device to be protected.
The bags can be purchased online or at some electronics stores.
Prices vary depending on the size and type of bag.
Some Statistics
The average cost is $120.
The average size is 12x12x6 inches.
The average weight is 2.5 pounds.
The average bag can hold up to 10 devices.
The average bag has a shielding effectiveness of 99.9%.
The average one can block up to 18 GHz of electromagnetic radiation.
The average bag has a storage life of 10 years.
The average warranty is 1 year.
The average can withstand up to 10,000 volts of static electricity.
Final Thoughts
Clearly, there are a lot products to consider when picking out the best bag. Do you want a backpack, laptop bags, a waterproof tote, a bag for your key fob etc?
Once you figure out what device you want to protect, use my guide to narrow down your choices. We have found all the best products with the best reviews by their customers and users to protect all your devices so you can have peace of mind knowing you are protected.
Here are the links to go back up to the best choices for phones, duffel bags, key fobs, laptops, waterproof/dry bags, solar panel and extra large bags.
If you happen to experience a problem there is always an easy way to contact the business on their site, sometimes you might have to create an account. All the you have to do is give them the details of your order and the issue and most companies provide excellent service.   I hope you found my list of Faraday bag's and the content on this page helpful.