Cell phones are continually emitting EMF and RF radiation which is why you need the best cell phone EMF protection. The concern with cell phones in particular is that they are always on you emitting a signal, even when you're asleep.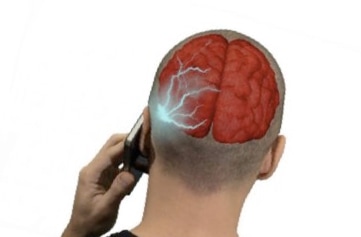 They are in close proximity to your head when you're streaming, scrolling, or talking. Often tucked in a bra, jean pocket, or just right in arms reach at all times, impacting your body on a cellular level.
It pains me to see everyone constantly looking at their phones or having them attached to them, knowing that they are exposing themselves continually.
It is very important to shield yourself from your phone… unless of course you're going to just stop using it entirely, which would be great but isn't practical at all.
Best Cellphone Radiation Protection
Fortunately there are many options available to reduce your EMF exposure from your cell which is why I'm sharing my top recommended products and tips for you to protect yourself and loved ones. With 5G being rolled out, this is even more important now than ever.
Best Anti-Radiation Cellphone Cases
You most likely use a case anyway, so why not buy one that's protecting you as well as your phone.
1. DefenderShield EMF 5G Radiation Protection Case
My number one recommended EMF mobile product is DefenderShield's EMF Cellphone case. You can buy it from Amazon or Defendershield.com. Blocking up to 99% of RF radiation and 98.25% ELF radiation, this case reduces chronic exposure to Wifi, Cellular, Bluetooth, and ELF and direct contact with EMF emissions.
The front cover is made with multiple layers of DefenderShield's Signature Shielding Technology, protecting you from electromagnetic radiation up to 10GHz, all while not affecting your cell signal.
Many cases out there block EMF but also entirely block your signal. It's great that you can use your phone while still being 99% protected.
Made of vegan leather, making them resistant to scratches, they have three RFID-blocking card slots to protect your financial and identity data. They're durable and anti-shock with a magnetic removable nesting for your phone. 

There are several cases for whichever version of iPhone you are on as well as android and universal cases available too. Shop iPhone case on Amazon or Defendershield.com. Shop Android and Universal cases on Amazon or Defendershield.com
DefenderShield is a reputable company, with a full line of high quality EMF protection products. It's a brand I trust. Besides their phone cases, I particularly love their air tube headsets.
2. SafeSleeve EMF Protection Anti Radiation Case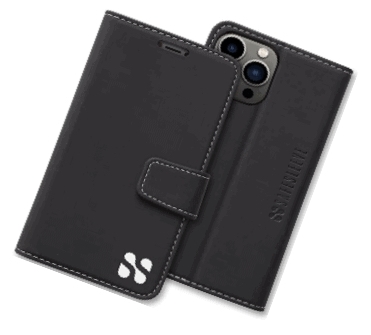 The SafeSleeve Anti-Radiation case works similarly to the DefenderShield. The front flap contains military grade shielding technology which blocks up to 99% of RF and 92% of ELF radiation, while continuing to maintain your cell signal quality.
Simply answer your phone then close the front flap of the case and continue using it without the EMF exposure to your head.
This case comes with a built-in 4 pocket wallet with full RFID-blocking technology to protect you from hacking, tracking, and data theft.
Made of vegan leather, it's a stylish case that comes in four different colours (black, grey, red, and leather) and a variety of sizes to fit iPhone, Samsung, and Google devices.
SafeSleeve's technology has been tested by an independent FCC accredited lab.
Best Faraday Cell Phone Sleeve
Most people always carry their cell phones on them and are on of the biggest contributors to EMF exposure. They also so much of your personal data that is vulnerable to hackers and trackers making them on of the most important electronics to protect.
1. Silent Pocket Faraday Bag Smartphone Sleeve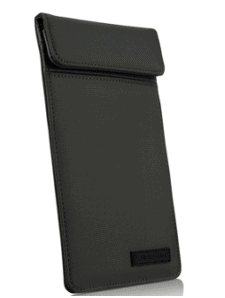 My top smartphone sleeve is the Silent Pocket Faraday Sleeve, made with their patented Silent Pocket Faraday Cage and Multi-shield Faraday Shielding technology.
This is the only patented Faraday bag on the market and is based on Military standard high-altitude electromagnetic pulse protection testing.
It blocks all signals, including RFID, WIFI, Cellular, 5G, Bluetooth, NFC, EMP, Solar Flare, GPS, Radio, and reduces your exposures to EMFs. The sleeve protects you from hacking, tracking, and secures your personal data.
Silent Pocket's sleeve is available in leather or nylon in multiple colours, with two sizes (Medium and small) to fit all smartphones. It's durable, waterproof, and versatile with a magnetic closure.
2. Mission Darkness Dry Faraday Phone Sleeve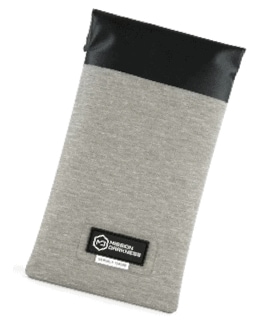 Designed for and with feedback from military and law enforcement, the Mission Darkness phone sleeve prevents hacking, location tracking and allows you to maintain digital privacy, all while minimizing your exposure to harmful electromagnetic frequency radiation.
This bag has an interior liner made of high-shielding TitanRF Faraday Fabric to block all wireless signals. Download Mission Darkness' app to test your sleeve's signal blocking strength.
Waterproof and made with extremely durable fabric and welded seams, it's great to use while travelling, in the rain, snow, sand, and anywhere near water.
This sleeve has a Neolok magnetic closure system with a double roll magnetic seal for military-grade shielding and waterproofing. The Bag is 7.5×4 inches and fits all standard phone models.
Anti-Radiation Stickers
There are quite a few EMF stickers on the market, made of a variety of materials that work to neutralize your EMF exposure from your phone. Here are my top EMF tags with the most positive feedback.
1. Dr Valerie Nelson Neutralizer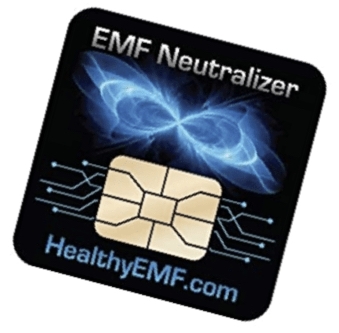 Dr Valerie Nelson's Neutralizer stickers are the most popular and highly rated brand of EMF stickers. They're slim (fitting inside your case), effective at reducing your exposure to EMFs, and convenient. All you have to do is peel and stick to your device.
Made in the USA, these tags are programmed with over 30 Homeopathic Frequencies, including Shungite and Crystals which are known to neutralize electromagnetic frequencies. They are hand programmed by Dr Nelson and her team.
They come in packs of 5, 10, and 20 so you can use them on all your electronic devices, including your tablet, TV, Wifi router, laptop, monitor, etc.
2. Aulterra EMF Protection Anti Radiation Sticker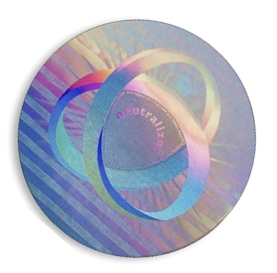 Another great option for EMF tags is the Aulterra EMF anti-radiation sticker.
This patented and peer-reviewed neutralizer has four micro-thin layers, made of activated earth elements to neutralize cell phone radiation.
You get a 3-pack of tags you can use on all your electronic devices to naturally change the bio-electrical patterns from man-made devices to harmless natural frequencies.
Best EMF Radiation Shield
This is a pretty cool shield if you are looking to keep your phone on but still be protected.
HARApad Cell Phone Sleep Shield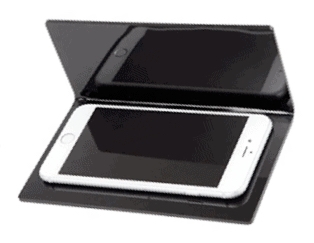 Hats off to you if you're not sleeping right next to your phone. Unfortunately too many people are. If you're not ready to ditch the phone then consider the HARApad cell phone sleep shield.
The sleep shield acts as an EMF barrier between you and your device while you sleep, blocking 99% of wireless radiation. Made of military-grade EMF and EMR shielding technology and acts like the vest you put on when getting an x-ray.
This shield is shaped like an L, measures 7x4x4 inches, and does not affect the signal quality or battery life of your device.
HARApad is a reputable family-run business that has been around for 10 years with mechanical and biomedical engineers working on their technology. They also sell laptop and tablet shields, and pads.
Best EMF Phone Pouch
I like pouches because you can easily slide your device in and out as needed.
SYB Phone Pouch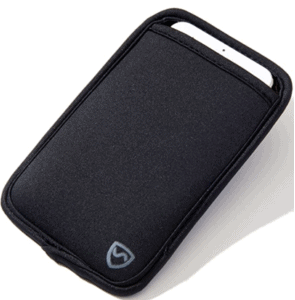 The SYB phone pouch is 
made of 3mm thick neoprene while the back is lined with their anti-radiation technology to deflect up to 99% of cell phone radiation, including 5G away from your body.
The SYB pouch comes in two different sizes to fit a variety of phones both iPhone and android, and five different colours (black, red, orange, green, blue). 

The pouch doesn't interfere with your phone reception, function, or battery life.
Shield Your Body is a reputable company with a large line of laboratory tested EMF technology products.
Air Tube Headsets
So you're going to start reducing your EMF exposure by using a case, sleeve, pouch, and/or sticker. The next thing to switch out is your regular earbuds, AirPods, and headphones.
DefenderShield EMF-Free Earbud Headphones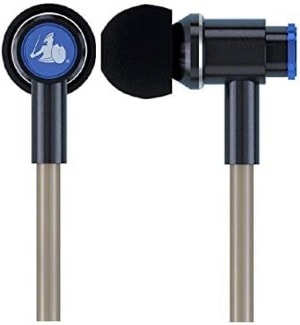 DefenderShield makes the best air tube headsets on the market. Eliminate the radiation being transmitted right into your head by switching to air tubes without losing sound quality.
Developed by audio engineers, these headphones have air-filled hollow tubes to deliver sound to your ears. The braided cord is also infused with copper to further reduce ELF electrical signals and there are no magnets close to your head either. The have ear buds, over the ear and kids EMF free headphones.
You still get the conveniences of your regular headphones, including; hands free mic, audio controls, with superior acoustic quality for your music, podcasts, phone calls, streaming… with no EMF exposure.
Other Tips to Reduce Your EMF Exposure From Your Phone
All of the items above are important ways to protect you from the harmful EMF radiation your phone emits continually. Here are some additional strategies that you can start using that will hopefully become habits you use all the time.
1. Use Your Speaker
Instead of holding your phone up to your head for a phone call or when listening to a voicemail, put it on speaker and keep your phone away from your head. Even the manufacturers suggest you keep your phone at a specific distance from your head when in use.
2. Put Your Phone in Airplane Mode
At night, if you have to keep your phone near you then keep in in airplane mode. If you're not using it during the day, switch it over. Without a signal, you're significantly reducing your radiation exposure. Plus it's a nice mental break from your device.
3. Don't Make Calls When Your Signal is Weak
The fewer signal bars on your phone, the harder your phone has to work, meaning it boosts the RF transmission power. This includes places like the subway, elevators, basements, etc.
4. Don't Sleep with Your Phone
An easy way to reduce your EMF exposure is to keep your phone away from you when you're sleeping. Keeping it away and in airplane mode is even better.
Your body is healing, restoring energy, and getting rid of waste while you sleep. This is crucial time for your health so help your body out by keeping that phone away.
5. Keep Kids off Your Phone
There are numerous studies that show kids are more vulnerable to EMFs. They can absorb twice as much radiation as an adult. So if they must be on it, switch your phone to airplane mode otherwise keep it out of their hands.
6. Be Cautious when Streaming
When your cell is streaming or downloading, it increases the RF energy produced by your phone. So you want to make sure you're not holding it near your head when streaming or downloading. 

Since that's pretty impossible when streaming, it's a better idea to download your movies or shows before watching them and even better yet switch to airplane mode while you watch them.
Final Thoughts
The number of people who have a smartphone worldwide is over 6.6 billion users and there are only 7.2 billion mobile phone users worldwide. That's a whole lot of EMF! The best thing you can do to make sure you stay safe is limiting how much you use your cell phone and keep it as far away from you as you can.
There are a variety of ways to protect yourself from EMF radiation from cell phones, including using a hands-free device, texting instead of talking, avoiding using your cell phone when the signal is weak.
There are a ton of EMF protection devices available on the market, including EMF protection stickers, EMF protection pendants, and EMF protection bracelets
I feel like I've given you a lot of options for the best cell phone EMF protection. Feel free to use the tips in combination with one or more of the tools I've listed in this article. Figure out which works best for you.
Changing your habits with your phone and using an EMF phone protection device will reduce your EMF exposure and benefit you in the long term. Your future self will thank you for taking action today.