It can be hard to find the best low emf infrared saunas with so many on the market. Especially since some are even claiming to be low EMF and they aren't at all. That's why we have included the ones that claim to be low EMF but have failed the test.
You're here for the best portable infrared sauna but first I want to suggest you consider a low EMF far infrared sauna. These home saunas allow you to get the maximum therapeutic benefits, have the lowest EMF exposure, and are made of the best materials.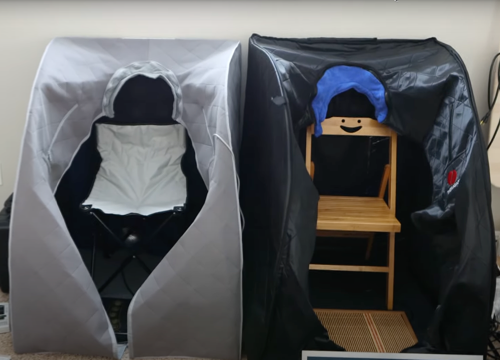 Best Low EMF Portable Saunas
My top recommended 1-2 person sauna is the Dynamic Barcelona FAR Infrared model. 

If you're still only considering a portable sauna, which I get, then read further for the best low EMF portable infrared saunas.
Dynamic Barcelona FAR Infrared Sauna
First consider this entry model Canadian Hemlock Far infrared 1-2 person sauna.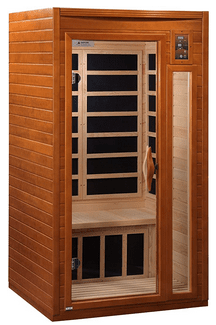 With 6 low EMF infrared Carbon heating panels, it produces a wider softer evenly distributed heat from panels you'll never have to replace. Easy to assemble, with built in speakers and an aux port, it's spacious, comfortable, and creates a relaxing and enjoyable atmosphere.
The Canadian Hemlock wood double panels means it retains heat more efficiently, heats up faster, and wastes less energy. It's resistant to shrinkage so it has a long life, non-toxic, and non-allergenic.
If you're still just looking for portable infrared saunas then continue reading for my top recommended portable units.
The great thing about low emf portable saunas is that they can be placed virtually anywhere in your house or apartment. If you travel for work or vacation you can bring it with it.
The best infrared saunas have been shown provide an extensive array of wellness benefits including weight loss, better circulation, pain relief, less stress, optimal detoxification, lower blood pressure and they are incredibly relaxing and peaceful.
Top Low EMF Infrared Saunas of 2023
The last thing you want to be exposed to while you are trying to gain all the health benefits infrared saunas offer are a high level of EMF radiation. That's exactly why I have put together this list for you.
I have included some popular saunas that have very high rating and say they are low EMF but have failed the EMF test and have high levels of radiation.
There are so many different options on the market and it can be overwhelming sorting through them all to find ones that are both high quality and have low EMF output. Here are the best Low EMF Infrared Saunas for 2023.
1. Durasage Personal Ultra Low Emf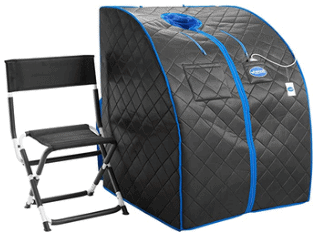 This premium personal portable infrared sauna by Durasage, can definitely eliminate stress after a long day. I give it a 4.5 out of 5 star rating.
This sauna has the most desirable features including being low EMF, heated foot pad, a padded floor pad and 3 low EMF carbon heating panels.
Its comes with a more comfortable fold-able athletic chair then other saunas, a couple of sweat absorbing neck collars that are washable, pockets that are sewn in for things like books and a handheld controller. This model comes in 3 different colors black, silver and pink.
Temperature
This infrared low emf sauna offers plenty of heat with air temperatures inside reaching up to 100+ degrees. The headed panels have a surface temperature that you can adjust in increments of 9 degrees from in between 104-140 degrees Fahrenheit.
EMF Levels
They are very low compared to some other brands on the market with a range from 5-15mg (milligauss) and that's while touching the panels. The levels where you sit won't go above 5mg
You don't worry how long you have been relaxing in this sauna because it has an adjustable timer that can be set for 5 minutes up to 30 minutes.
Size and Dimensions
32 inches W x 33 inches D x 41 inches
30.5 lbs
2. Durherm Negative Ion Portable Sauna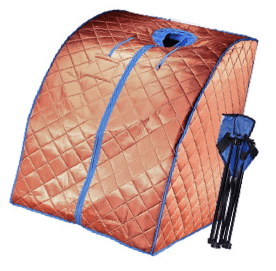 This Copper sauna by Durherm comes with a sports chair, heated foot-pad, foam pad, a 2x terry cloth neck.
The heat panels heat up in minutes, and the soothing warmth inside the sauna can reach up to 110 degrees. The wired handheld controller is so convenient as it allows you to easily adjust the temperature to your liking.
EMF Levels
Range from 5-15 milligauss
Size and Weight
31.5 inches W x 33 inches D x 41 inches
25 lbs
3. Healing Forest (Plus Size)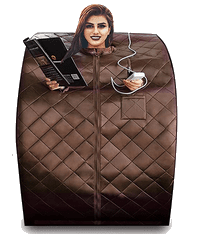 This brown sauna by Healing Forest can be easily set up and folded back up in a minute. It features a soft sweat sucking neck collar. The timer has a maximum time of 60 minutes. The chair weight capacity is 440 lbs. The sauna comes with a 1 year warranty.
EMF Levels
Most space is between 0.01mG – 0.5mG
Near heating panels it's between 0.7mG – 0.9mG
Size and Weight
31.5 inches W x 33 inches D x 40.6 inches
24.8 lbs
Temperature
This sauna is designed so that the temperature gently rises. The manufacturer says to allow for about 30 minutes for this sauna to reach from 60 degrees Fahrenheit to 140 degrees Fahrenheit.
But one user reported it reached 140 degrees in about 15 minutes. The foot pad can be set to 3 different heat levels with the remote.
4. BB Brother Brother Oversized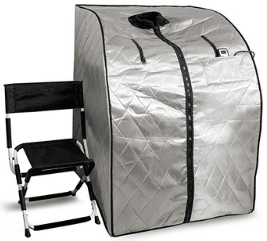 This silver sauna by BB Brother Brother is low EMF and has a built in negative ion generator.
It is one of the only portable infrared saunas that has been certified and FDA approved. It's extra large for more space and is easier to get in an out of then most other ones on the market.
It comes with an extra neck collar that is washable. It comes with foot massager, foam pad and large black storage bag. The 90 minute timer is adjustable. It comes with a sturdy chair that has a capacity of 220 lbs (100 kgs).
EMF Levels
Size and Weight
38 inches W x 32 inches D x 42 inches
35.8 lbs
Temperature
Maximum temperature of about 167 degrees Fehrenheit (75 Celsius)
Testing It With An EMF Meter
If you are like me and like to test things out for yourself I recommend testing your sauna with an EMF meter or detector to know exactly what you exposure levels are.
Conclusion
If you want an easy way to enjoy sauna sessions in your house or apartment, any one of the best low EMF portable saunas will be perfect for you.
I personally love these low EMF infrared saunas because they can be transported pretty much anywhere. These saunas are also great because of all of the incredible health benefits they offer.
References
https://www.health.harvard.edu/blog/sauna-use-linked-longer-life-fewer-fatal-heart-problems-201502257755
https://www.sciencedirect.com/science/article/pii/S073510970101467X