A low EMF infrared sauna emits very low levels of electromagnetic radiation, making them a safer and healthier option for sauna therapy. The best Low EMF infrared saunas offer many health benefits so it's no wonder you're considering getting one for your home.
The low EMF levels allow for deeper penetration of infrared heat, providing more health benefits than traditional saunas. They can help to detoxify the body, improve circulation, reduce pain, and promote relaxation.
Not only does a high EMF radiation make your sauna less effective, but exposure isn't good for you either. This is why you want to make sure to choose the best low EMF Infrared sauna in order to maximize the benefits of your sauna.
There are a variety of low EMF infrared saunas on the market, ranging in price and features.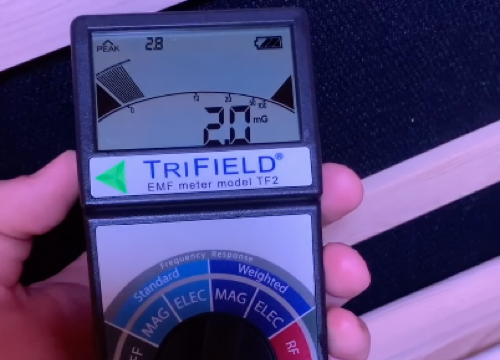 Top 10 Low EMF Far Infrared Saunas
The top brands selling low to zero emf saunas are Dynamic and Maxxus. Both companies offer the highest quality and safest saunas currently available in a variety of models to suit your needs.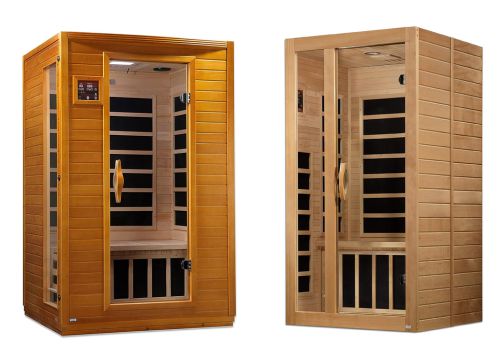 Dynamic Saunas
Operating since 2008, Dynamic is one of the largest suppliers of infrared saunas in North America. Made of Canadian Hemlock and fir, these saunas are easy to assemble and have a reputation for quality and design. Dynamic also has a great after sales support service.
Maxxus Saunas
Maxxus Saunas feature low EMF heating panels and are constructed with either Reforested Canadian Red Cedar or Hemlock. They have the thickest panels on the market for efficiency, and conserving energy. Maxxus also has great customer service.
Best Lowest EMF Saunas for 1-2 People
So now you know which brand to look for, but both companies offer so many saunas to choose from. So what I'm going to do for you is organize the best saunas by size/person. Here are my top recommendations for 1-2 people.
1. Dynamic Andora
The Dynamic Andora model sauna is highly rated and fits two people comfortably.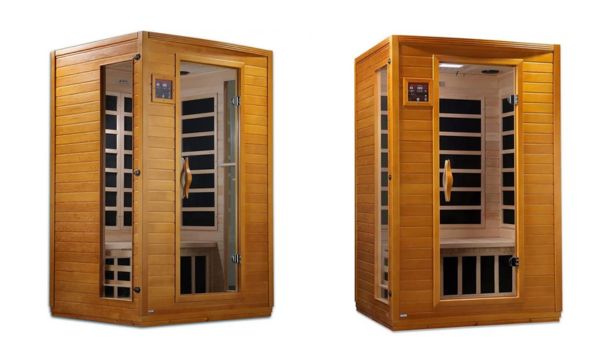 It has 6 low EMF infrared carbon energy efficient heating panels, including a foot panel, to produce a wider, softer heat that is evenly distributed throughout the sauna.
Unlike other types of saunas, you'll never have to replace these carbon heaters.
Constructed from Reforested Canadian Hemlock and double panelled, this sauna retains heat more efficiently, heats up faster and wastes less energy.
The Hemlock is light in colour, and more resistant to shrinkage, giving it a longer life compared to other types of wood. It's also non-toxic and non-allergenic, with very little smell so it is beneficial to your body and creates an enjoyable atmosphere for all users.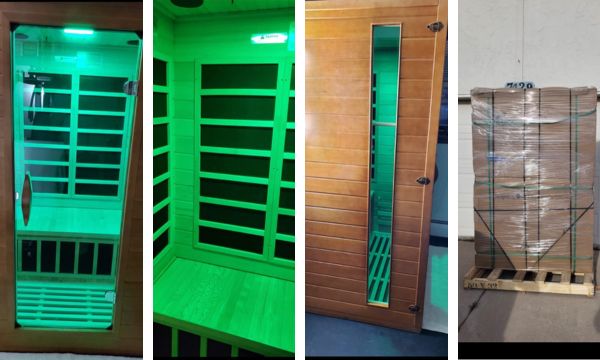 It has many conveniences including, an auxiliary port and built in speakers, a soft touch control panel, temperature display, and plugs into any outlet. It measures 48" W x 42″ D x 75" H.
2. Dynamic Barcelona Elite
Like the Andora model, the Barcelona Elite is also made of Reforested Canadian Hemlock, with 6 ultra low EMF carbon energy heating panels, including a foot heater. It is designed for 1-2 people.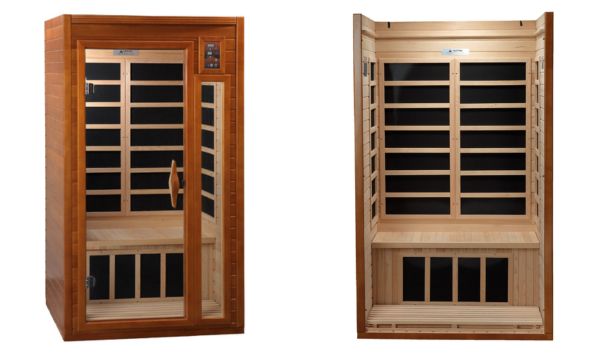 It has an EMF rating of under 3mG when sitting 6 to 8 inches from the heating panels, one of the lowest readings of all Far Infrared saunas.
The carbon panels will not need to be replaced, unlike other types and you get a wider, softer and evenly distributed heat.
It also has many great features including a tempered glass door, Chromo Therapy lighting system, two built in speakers, auxiliary input, soft touch controls, and heats up to 140 degrees Fahrenheit.
It does have built in Bluetooth capabilities, but when trying to reduce your EMF exposure, don't use it.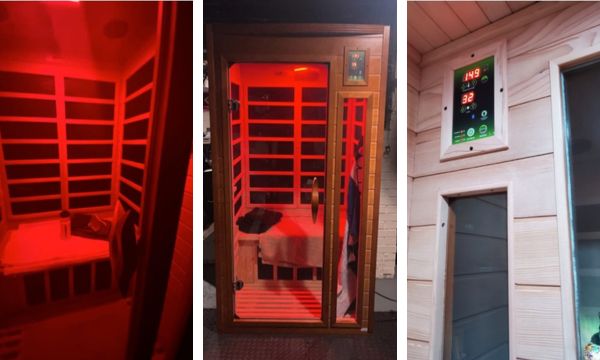 This model is slightly smaller than the Andora at 39 W x 36 D x 73 H inches and also lower in cost. Easy to assemble, it should only take about 45 minutes to clasp together before you simply have to plug it in.
There's also a highly rated low EMF Barcelona model, you can check out here. Identical in every other way. Relax and detox knowing you've chosen a safe ultra low EMF sauna.
3. Maxxus Seattle
Maxxus' Seattle sauna is built for 2 people and has 6 Far Infrared carbon heating tube panels at 1750 Watts (2 on the rear wall, 1 on each side wall, 1 under the bench, and 1 on the floor board). Tested with a gauss meter with a reading of 10mG at 4cm distance.
Made of Canadian Hemlock, it has an interior reading light, interior soft touch control panel, feet reflexology heating system, and built in speakers and aux connection.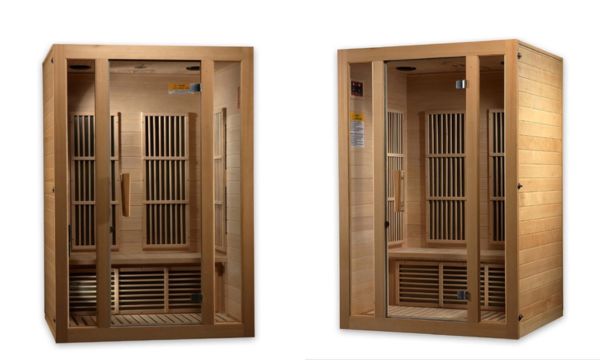 One thing I like about this sauna over the Dynamic ones is that the front wall is almost entirely tempered glass (with a door and two side panels) making it feel a lot more spacious even though it has a two person capacity. The demensions are 41.3 x 47.2 x 74.8 inches, it has a Chromo therapy lighting system and is easy to assemble.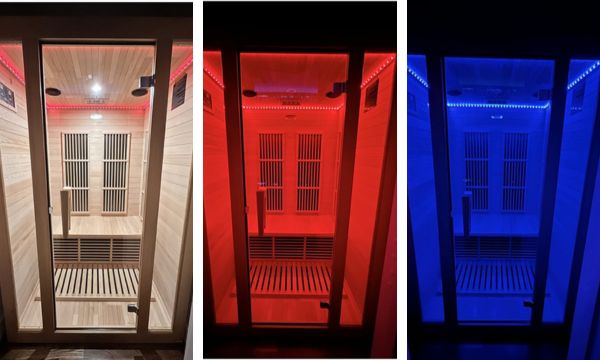 4. 1Love Sauna Dome – Zero EMF
If you don't have the space or budget for a large sauna then I strongly recommend 1Love's Dome Sauna, Premium Zero EMF.
This is a personal Far Infrared Sauna Dome that comes with a mat and pillow so you can lay down, relax, and feel amazing. It heats up to 194 Fahrenheit, heats with Carbon Fiber, and measures 71"x25"x15".
Your head stays out of the dome, so it can stay cool which helps keep you comfortable. It also has Tourmaline and Germanium therapeutic stones in the dome and mat, which store heat, enhance the therapeutic benefits and have benefits of their own.
Easy to use, heats up quickly, easy to fold up and store and it plugs into a regular outlet. I love that it's well made and doesn't take up much space. It really is a great sauna.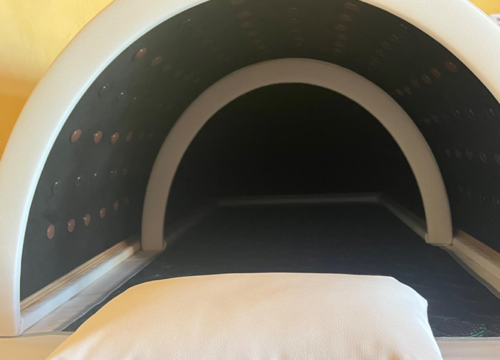 Best 3 Person Low Electromagnetic Field Infrared Saunas
If you're looking for more space in your sauna for you and friends, or to stretch out and do some yoga, then check out my top recommended for 3 people.
1. Maxxus Marsaille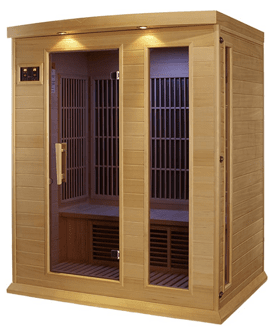 The Maxxus Marsaille Far Infrared sauna fits three people across a single bench. It has 7 low EMF Carbon heating panels (3 on the rear wall, 1 on each side wall, 1 under the bench, and 1 on the floor).
Tested with a gauss meter with a reading of 2-5mG at 4inches distance, making this sauna an incredibly low EMF and safe model compared to other 3 person comparable units.
Made of Reforested Canadian Hemlock, it is antimicrobial, durable and resistant to shrinkage. The Marsaille has a bronze tinted tempered glass door with three window panes, making it feel more spacious while maintaining privacy.
Some extra features are two built in speakers, CD player, auxiliary port, a soft touch control panel, Chromotherapy lighting system, and heats up to 140 degrees Fahrenheit.
Easy to assemble, this sauna measures 64" W x 44″ D x 75" H and requires a 20AMP receptacle so it's not just a plug in and use. You'll likely have to upgrade your 15AMP outlet.
The Maxxus Marsaille sauna is high quality, energy efficient, beautifully designed, and most importantly low EMF.
Top 4 Person Saunas
If you're looking for saunas with the largest space capacity then the 4 person units are right for you.
1. Radiant Hemlock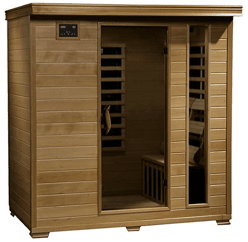 Made of Canadian Hemlock, the Radiant 4 person FAR Infrared sauna comfortably fits four people (two seats facing each other). Not only is it low EMF, it is a beautiful sauna with bronze tinted glass and carved details to add a touch of luxury.
With 9 low EMF Carbon infrared heaters well positioned in the sauna, this unit provides you with safe even heat, emitting ultra-low levels of EMF at 2mG at 10cm distance.
It has a chromotherapy lighting system, integrated sound system with cd player and aux ports, an oxygen ionizer, back rests, towel hooks, and a magazine rack. The Canadian Hemlock is antimicrobial, durable, and an excellent insulator.
Quick and easy to assemble for two people, just know that you will need 20amp 120v plug in for this sauna, which may require an electrician. Radiant Saunas provides you with a 7 year manufacturers warranty.
Best Outdoor Low EMF FAR Infrared Sauna
There are a lot more options for indoor saunas but if you are considering an outdoor one instead here is my top recommendation.
1. Xmatch Far Infrared Wooden Outdoor Sauna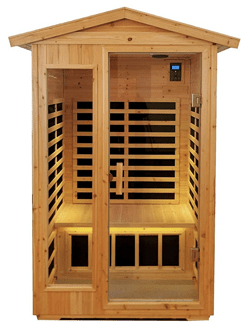 Made of Kiln dried Hemlock, Xmatch's outdoor sauna has 9 Low EMF Carbon Far Infrared Plates. Constructed to only produce very weak power-frequency dominating magnetic fields, this sauna does not have electric motors or inverters.
With a gauss reading of 2mG on the bench and averaging 8mG inside, it is certified by third party testing, placing this sauna far far below the Exposure Reference Level and one of the lower EMF Infrared Saunas you can find, especially for outside.
This is a 2 person outdoor sauna for people up to 6'3", with a tempered glass door, ceiling vents, speakers, Chromotherapy Lights, reading lights, and an LCD control screen inside. They also have a smaller version available for 1 person.
It's easy to setup, it should only take two people about 20 minutes, has a quick plug in connection, easy maintenance and a lifespan of approximately 12 years. I love the look of this sauna. I think it would be an excellent addition to any ones outdoor living space.
Frequently Asked Questions (FAQ)
With the popularity of low infrared saunas, I get a lot of questions sent to me. Here are some of the most common questions I get.
What is a low EMF infrared sauna?
Low emf infrared saunas use infrared light to heat your body, mostly from carbon panels. Infrared light is a type of electromagnetic radiation that is invisible to the human eye but can be felt as heat.
Low emf refers to the fact that these saunas emit very low levels of electromagnetic fields (EMFs). According to the EPA, readings over 3 milligauss (MG) can be dangerous to people.
Low EMF saunas emit almost undetectable readings, where has regular infrared saunas can reach up to 15oMG.
How do they work?
The infrared light used in infrared saunas is specifically chosen to penetrate the skin and heat the body from the inside out.
When the body is heated from the inside out, the blood vessels dilate and the blood flow increases, resulting in a ton of great health benefits.
What are the benefits of infrared saunas?
Infrared saunas have many benefits for your health and are used in therapy by chiropractors, doctors and physical therapists. The heat from the sauna penetrates the soft tissue, opening your blood vessels. 

Some of the benefits include:
Detoxification (removing toxins from your body)
Muscle Aches, Joint Pain, Arthritis (pain relief)
Reduced Stress and Fatigue
Increased Metabolism
Immune System Support
Improved Skin Conditions
Diabetes Support
Increased Circulation
Weight Loss
Better Sleep
Help With Mood (Anxiety and Depression)
Overall Longevity
How long do they take to heat up?
It depends on the product but they typically take around 30 minutes to heat up, and can be used for up to an hour at a time.
How long can I stay in?
Everyone is different so remember to always listen to your body. If it is your first time using a sauna it is recommended to start with about 10-15 minutes. After that you can add extra time to each session until you get to the suggested time of 20 to 30 minutes. The sauna will come with a timer that you should set so you can relax and not think about the amount of time you have been in.
How often can I use it?
If your body can tolerate it, you can use it everyday but most people recommend using it 3-4 times per week.
How many people can fit?
Most low EMF infrared saunas can accommodate one to two people at a time. But there are larger models available. I believe the largest I've seen is a 6-8 person one.
Are they safe?
There is a ton of research going back decades, supporting the safety of Infrared saunas. They are commonly used in hospitals to keep newborns warm. They're also used by doctors, chiropractors, and physical therapists daily as a treatment method for their patients. Choosing a low EMF model is the best way to control for RF emissions and absorption.
How much do they cost?
There is a wide range in prices for low EMF infrared saunas, with the least expensive models costing around $1 500 and the higher end models cost upwards of $5000.
The price of a low emf infrared sauna will depend on a number of factors, including the size and capacity of the unit, the features included, and the quality of the materials used. Generally speaking, the larger the unit and the more features it includes, the higher the price tag will be.
What is the lowest EMF sauna?
The only zero-EMF sauna is a wood-fired sauna. These saunas heat with fire and therefore don't use any electricity. They must be placed outdoors as there is a level of risk to them. They require a regular supply of firewood and operate a the highest heat of any type of sauna.
Because of the inconvenience of wood-fired saunas, most people opt for infrared ones and but be sure to look for low EMF saunas.
Infrared Saunas Versus Traditional Saunas
What is the difference between low emf infrared saunas and traditional saunas? There are several key differences, the biggest one being that traditional saunas heat the air around you, while infrared saunas heat your body directly. The sauna itself doesn't steam and heat up.
This means that infrared saunas can be more effective at helping you to sweat out toxins and impurities. They can be used at lower temperatures than traditional saunas, which some people find to be more comfortable and you can better control the temperature inside.
Make sure you buy from a reputable company and always check their reviews. I have done a ton of research on them so my recommendations above are definitely good options.
If you are looking for a cheaper option while still getting the benefits of a sauna experience, check out a low emf portable infrared sauna or a sauna blanket.
References
https://health.clevelandclinic.org/infrared-sauna-benefits/
https://www.hightechhealth.com/dangers-of-emf-and-importance-of-a-low-emf-infrared-sauna/