If you want to burn calories, detox, and improve your health while laying down and watching TV then the best low EMF infrared sauna blanket may be the right choice for you.
I absolutely love my infrared blanket. It makes me feel great and requires so little effort from me!
Infrared Sauna Blankets Are Easy To Use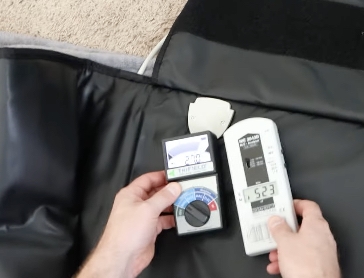 They are easy to use, just heat up, climb inside your sauna sleeping bag and get the same feeling as a hot yoga class or going to the spa.
But you want to make sure you choose a low EMF model to get the amazing benefits, without absorbing the radiation.
It's always a good idea to measure the EMF levels with your EMF meter if you have one.
Low EMF Sauna Blankets
There are many options out there but many of the most popular brands are not low electromagnetic radiation, so I've put together a list of my favorite sauna blankets that are.
Since your body is surrounded by heater panels and electricity and you may lay in it for up to an hour, potentially daily, you want to ensure your body is exposed to the least amount of radiation as possible.
Here are my recommendations. I hope you enjoy your home spa!
1. Reviiv Far Infrared Sauna Blanket
My top recommendation for a low EMF infrared blanket is REVIIV's Sauna Blanket Pro.
This low EMF heating blanket is spacious, comfortable, and made of five layers of carbon fiber far infrared heating and non-toxic fabric.
It has a wide velcro strap for easy fastening (like a sleeping bag) and opens up completely for easy cleaning after all the sweating and detoxing you'll be doing inside.
Temperature and Timer
The controller is easy to access and allows you to select the temperature and a timer, and has an auto shutoff after 60 minutes. The temperature is adjustable from 77 to 176 degrees Fahrenheit (25-80 degrees Celsius).
This is a great way to get the benefits of an infrared sauna (reduced inflammation and pain, increased circulation, detoxing and burning calories, anti-anxiety, improved sleep, and more), from your bed.
You also get a carry bag for easy storage and use while travelling and a one year warranty on your blanket.
2. 1Love Professional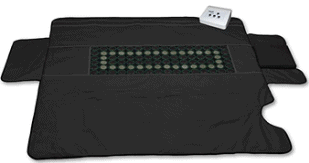 Another one of my top recommendations is 1Love's premium blanket with therapeutic stones. Made with Zero EMF Technology, the 1Love Premium Sauna blanket is a professional quality, heavy duty FIR personal sauna.
It is a top-of-the-line unit with features beyond most other blankets. It has 3 separate independently controlled heating zones, where most have one or two.
Therapeutic Stones
Made with 96 Therapeutic stones, including Tourmaline, Jade, and Germanium, this intensifies your experience, releases negative ions, and has many additional health benefits.
With 8 non-toxic layers, including a durable waterproof outer layer and Zero EMF Carbon Fiber, and 360 degree coverage, this blanket is designed to last.
It fits people up to 6'3", comes with a pillow and control unit with timer for consistent, reliable heat. There are also several safety certifications, including RoHS chemical and negative ION certifications. And if you care, it comes in several different colors.
3. Gizmo Supply 3 Zone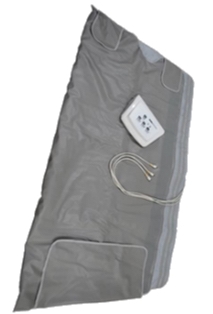 Gizmo Supply Co's blanket is also a really popular choice for a far infrared blanket. It also has three separate heating zones (upper body, waist, and lower body), and can heat up to 194 degrees Farenheit (90 degrees Celsius), giving it the highest temperature on my list.
This unit uses Japanese made Carbon heater panels, making it low EMF and also allowing it to heat faster and more efficiently. It's also UL Certified and made from non-toxic materials with a soft interior and waterproof exterior.
Great for detoxing, pain relief, circulation, boosting your immune system, improved sleep and for reducing anxiety. My only complaint is that it is smaller than my other recommendations (66×38 inches) so it's best for people under 6'.
4. Luar Global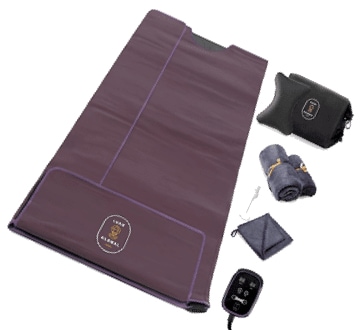 With the Luar Global blanket you not only get your sauna blanket and protective carry bag.
You also get a comfy pillow, a cleaning cloth and spray bottle, two microfibre towels (one for your body and one for your face), a handheld controller, and a user guide.
Lined with a high grade water resistant material, it's durable, easy to clean and doesn't absorb any smell, germs or sweat. It's also designed to distribute the heat evenly with a single heating zone setting.
A great size, at 70×82 inches, it should fit most adults comfortably. This one has a zipper, while the other options on my list all come with a velcro attachment to "burrito" you in to your sauna.
5. FuLove Portable Therapy FIR Blanket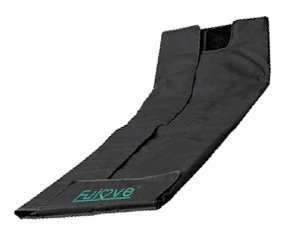 FuLove's infrared blanket is a larger size for comfort and space compared to similar units at 70.9×82.6 inches long. It's an affordable and comfortable home sauna, made of non-toxic, flexible, stretchy, and waterproof fabric.
It heats quickly, provides 360 degree far-infrared heating, and goes up to 167 degrees Fahrenheit and comes with an easy to access remote to set temperature and timer (5-60 minutes).
With this blanket, you also get a travel and storage bag, certificates and test reports.
It only releases 9-14um far-infrared, making it a low EMF and safe option. Great for detoxing, immunity, relaxation, etc. you can also burn 600 calories in 60 minutes, simply by laying inside this blanket.
Frequently Asked Questions?
Heat therapy and infrared sauna blankets are new to a lot of people, so I often get questions about them. Here are some commonly asked questions regarding use, maintenance and performance, benefits and more, in case you have the same questions.
How does it work?
The infrared sauna blanket uses a unique form of radiant heat that penetrates your skin (2-5cm), heating you up, similar to how the sun does.
This provides a deep, detoxifying sweat at the cellular level. It heats a person or object but not the air around you, making you feel warm and snug.
The heat from the blanket helps to loosen and release toxins stored in the fat cells, as well as improve circulation and reduce inflammation.
It uses infrared rays the same way a sauna does, minus the four walls and bench.
How long does the blanket take to heat up?
This depends on the brand and model but it usually takes around 10-15 minutes to heat up.
What are the benefits of using one?
There are so many benefits of using a sauna blanket, which is why saunas have been used for thousands of years. These benefits include:
Increased circulation and blood flow: Helps to improve heart rate, and overall cardiovascular health.
Pain relief: Reduced inflammation, relief from arthritis, muscle aches, joint pain, recovery, and menstrual cramps.
Detoxification: Sweat out those toxins.
Calms the mind: reduces anxiety and stress, promotes relaxation, releases mood boosting chemicals to improve your mood.
Weight loss: Speeds up your metabolism and the sweating helps with water retention and losing weight.
Look better: Helps open pores in your skin, shed dead cells, improves sleep and reduces stress.
How do I clean it?
The best way to clean your blanket is to open it up and use a soft cloth, the same way you would clean a yoga mat. Do not use harsh chemicals and make sure it has cooled down before you clean it.
Some brands recommend wiping it down with a wet clothes instead of a dry one, so make sure you check your instructions for the best recommendations for your specific product.
Can I use the blanket sitting up?
They are designed to be used laying down, sitting up will cause the blanket to bend and fold which could damage it.
Besides laying down in your sauna is great for relaxation and reducing your stress. You can't try to multitask in it, just focus on rest and relaxation.
What should I wear?
You should wear light-weight and loose layer of clothes (long-sleeve cotton, including socks) to absorb your sweat. Don't wear tight-fitting clothes or a wired bra. Some manufacturers recommend laying on a towel as well.
How long can I stay in?
If you're just starting out then it's recommended to start on a lower temperature for about 10-15 minutes, gradually working your way up. The maximum length of time recommended is 40-60 minutes.
This is all going to be based on an individual basis.
Listen to your body and monitor your temperature. I like to stay in mine for about 45 minutes but my wife can only do about 25-30 minutes per session.
Are there any risks associated with using this kind of sauna?
Sauna blankets are generally considered to be low risk, safe, and effective. But there are a few things to keep in mind – dehydration, and overheating.
Since you'll be sweating a lot, it's possible you could become dehydrated and since you're laying down you might not feel the effects right away. Drink plenty of water before and after using your blanket.
Make sure you start at a lower temperature and session length and work your way up to avoid overheating.
These blankets use electricity (converted to heat) and give off electromagnetic radiation. It makes sense to choose a low EMF model for your own safety and to maximize the health benefits.
What features should I look for?
The blankets I have recommended have lots of great features, like a built-in control panel or remote control to easily adjust the temperatures and timer, and are made of comfortable and hypoallergenic material.
I also like features like a carrying case for easy transport and storage, safety feature, and make sure you're happy with the size of your blanket (particularly important for really tall people).
Why should I choose an Infrared Blanket instead of other saunas?
Here are the biggest factors I see for choosing a sauna blanket instead of a larger sauna;
Space – when you're done with it you can fold it up and put it away. It doesn't require much storage or an entire room of its own.
Cost – Blankets are much cheaper to buy and maintain than permanent sauna units, hot tubs, or even the portable units.
Maintenance – It requires much less cleaning and maintenance than large units.
Portability – You can travel with it, or use it in any room of your house or even outdoors.
Convenience – They heat up and cool down quickly, and cost less to run.
Comfort – Laying on a soft blanket is more relaxing and comfortable than sitting on a wooden bench in a box.
When not to use one?
For most people they are very safe. However, if you are pregnant, breastfeeding, or under the influence of drugs or alcohol, do not use your sauna blanket.
It is only for adults, not to be used by children. You also should avoid it if you have a fever.
Improve Your Wellness Routine
Saunas are a great addition to your wellness routine, with many benefits for your health.
The best low EMF infrared sauna blanket is a great alternative if a cabin sauna doesn't work for you and a great place to start to see if you like using heat therapy before making a huge investment into one.
Works With A Busy Schedule
This is something you can easily incorporate into your day, before bed, while you watch TV, or even to start your day relaxed and energized. I know with our busy schedule and running after our kids it's hard to get to the gym or get a run in.
My wife has a hard time getting to hot yoga regularly but the sauna blanket is an easy way to prioritize our health and take care of ourselves (in our own home).
I can detox, relax, sweat, and burn calories while watching my favorite show before bed and it's awesome.