Did you know that your wireless router is emitting electromagnetic radiation constantly, with beacon signals going out ten times a second, 24 hours a day?
This is why I recommend a number of strategies to reduce this RF radiation, including switching to the best low EMF router, the JRS Eco Router.
Top Low EMF WIFI Router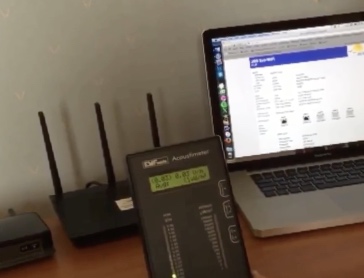 You can reduce your router's beacon pulse frequency by 90%, sending out a beacon signal only one time per second instead of ten.
This significantly reduces the EMF radiation you are exposed to from your router at any given time.
Radiation Free Eco Mode
They are also the only WIFI routers that automatically switch to radiation-free Eco standby mode when your devices aren't connected, giving off zero emissions when not in use.
This is especially great for at night when you are sleeping and there is no need to be exposed to radiation from your WIFI router.
Automatically Turn Off At Night
But you can also use their WIFI time-switch, where you set a time for the WIFI to automatically completely switch off for the night. This is especially helpful for keeping your kids and teens off their devices during the night.
Don't worry your internet speed, range, and connection stability are not affected and it is compatible with any provider and internet modem/router.
JRS Eco 100 D2 on Asus
The JRS Eco 100 D2 model is one of JRS' newest top of the line Eco routers. It has full eco standby mode with zero emission, only switching on when your devices are connected and using the internet.
High Speed Router

It offers high speeds of 400+Mb/s on Speedtest.net, and has a 1 Gbps (1000 Mbps) ethernet port. It operates at both 2.4 and 5 GHz, but the 5GHz can be turned off to minimize radiation even further.
The D2 model also has a detachable antenna, cabled LAN ports with a WIFI disabling switch, WIFI time switch to have a scheduled disconnected period overnight, USB ports, Firewall and WPA-2 security, VPN, and Guest networks.
This router has everything you could need, which is why I recommend it as the best low EMF WIFI router.
100 D1 on Asus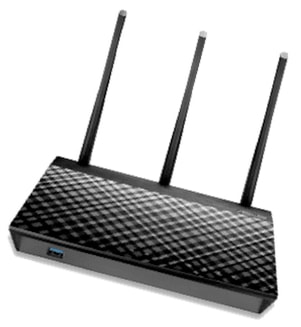 The JRS Eco 100 D1 model is my second recommendation for a low radiation router.
It has everything that the D2 model has including 90% beacon pulse frequency reduction, full eco standby mode, WIFI time-switch, dual band with the option to disable 5 GHz, etc.
What makes the D1 router cheaper is that it doesn't have detachable antennas, and an on/off switch for the WIFI transmitter if you want to use the ethernet LAN ports instead. Otherwise they offer the same features.
01A on Asus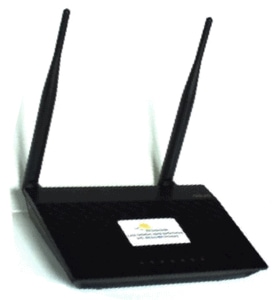 The Eco 01A Model low radiation router has a 90% reduced beacon pulse frequency, WIFI time-switch, and an on/off WIFI switch while using the cabled LAN ports, but does not have the Eco zero emission standby mode.
The only reason I'd suggest you get this router over the other two is if the main consideration is cost.
Less Features Than Other Models
You still get significantly less radiation from your typical router with the 01A low EMF WIFI router, it just doesn't have all the amazing features as their newer models.
It only operates on the 2.4GHz network and the range is a little less. It has max speeds of 25 Mbps which is great for browsing and normal internet usage. However it does offer external detachable antennas, Firewall and WPA2-security with password, VPN, and guest networks.
Here is a link where you can see and compare all of the models.
More About JRS Eco Wireless
JRS Eco Wireless is located in The Netherlands and founded by Jan-Rutger Schrader, PhD. Their mission is to improve people's well-being by reducing EMFs in their environment. Their goal is less radiation, same performance, and technically measurable.
JRS is a member of the association of experts in electromagnetic radiation metrology.
They have several router options in different price ranges, an iPad and iPhone hardwired adaptor so you no longer have to have WIFI or cellular radiation in your hands and close to your face. Reduce your kids' RF radiation exposure by connecting them to an Apple certified hardwired adaptor.
Frequently Asked Questions
This is a really popular low-EMF router, and really the only options out there. Here are some of the most popular questions I get asked about them. If you have any questions, don't hesitate to ask!
Do Low Emission EMF Routers Really Work?
Yes they do! With the same upload and download speeds as a regulator router and 90% less radiation, why wouldn't you switch to a low radiation WIFI router? The JRS Eco Router has a standby eco mode, WiFi switch (so you can just use ethernet) and timed WiFi settings.
You get several options to control and reduce your router's EMF emissions.
How Bad is WiFi Radiation?
The full risks of WiFi are still unknown. However, this research study shows that continuous exposure causes oxidative stress in rats (after only 10 weeks). Oxidative stress can damage cells and DNA and is linked to all kinds of health conditions.
Another animal study showed that WiFi radiation caused cellular damage and damage to organs. While a 2011 study showed it had a significant affect on human sperm.
What Is The Best Router With The Lowest EMF?
There really is only one brand offering low EMF options and it's the JRS Eco Router. I have a full JRS Eco WiFi router review here. I think the best model is the Eco 100 Router D2 on Asus. It has the most features and adjustable settings.
How Easy Is It To Set Up?
The JRS router is easy to set up, similar to any other type of router. Just plug it and follow the instructions.
You can also install their eco firmware on any Asus router (which you can purchase separately). This is a little more complicated and maybe not for anyone to do. You'll be emailed instructions and there's also a video to follow on their website.
How Does a Router With Low Emissions Work?
Instead of sending constant WiFi beacon signals, a low EMF router essentially goes into airplane mode when your smartphone, computer, tablet or other wireless device isn't connected to it.
So your router isn't emitting any RF radiation or electromagnetic radiation, because it's not sending out any beacon signals, which is much better for your health.
Control your WiFi Settings
This technology has other settings, allowing you to completely turn off your Wi-Fi at night, or use the on/off button to not have any Wi-Fi on at all and use an ethernet connection instead, which emits much less radiation.
The best option is to eliminate WiFi radiation completely, but since most people aren't interested in getting rid of their router, switching to a lower EMF wireless router is the next best thing.
What Are The Benefits?
There are many benefits of using a low emf router, including:
Reduced EMF exposure
Decrease in EHS symptoms – some people are sensitive to RF frequencies
Improved sleep – EMF radiation is linked to sleep disruptions
Better for the long-term health of your family (especially pregnant women and children) and pets
Convenience – you don't have to manually disconnect your router at night
Control over the internet – your kids can't stream all-night long
My Experience with this Wireless Router
As soon as I read about Jrs' router, I knew I had to have one. It didn't take long to arrive and there is no difference in speed or connection from my old router.
I used to use WiFi router guards at home and at work but prefer using the eco router because of all the features and settings.
I still use other strategies to reduce EMF emissions (like using an ethernet cable while I work, keeping our router in a room in our basement that we don't use regularly).
But I am happy knowing that the router isn't sending signals when we're not on the internet. Sometimes I find the timer annoying, the same as the timer we had set up to our old router.
Helps me Sleep
If I'm working at night past the time we've set the timer to turn off or early in the morning then I have to manually turn on and off the switch (and sometimes wait for the internet to reconnect after it's turned off on me).
However, the timer is a good signal for me to get to bed! Internet is off so I should be asleep. If I ever get binge watching a show, this does the same. Kicks me off to go to bed.
Summing it Up
You most likely have a wireless router, which is one of the biggest (and constant) sources of RF emissions you're exposed to in your home – 24 hours a day.
Using a low electromagnetic frequency router is an easy way to reduce your exposure without having to do anything else or change your internet use. This is one of the first things I recommend everyone starting on this EMF protection journey.