Grounding improves the quality of your life. It helps neutralize the electric charge in your body. It also improves sleep, reduces inflammation, promotes healing, and reduces pain among other amazing benefits.
Grounding fitted sheets let you ground your body for ideally 8-10 hours every day. Our bodies recover and heal while we sleep. This is a crucial time for reducing inflammation and why sleep quality is so important, which is also why it's a great idea to ground yourself while you sleep.
Top Grounding Fitted Sheets
If you're getting earthing sheets, which you'll be using daily, you want to have the most comfortable, breathable sheets. You want the highest quality and best grounding sheets on your bed. 

Here are my top recommendations for the best grounding fitted sheets currently available.
1. Amerthing Grounding Fitted Sheet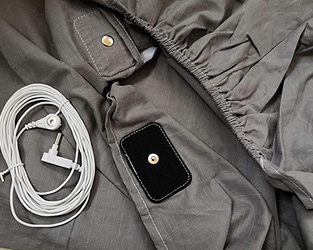 The Amerthing Grounding Fitted Sheets are among the highest rated online. Made of 95% Organic Cotton and 5% Pure Silver Conductive thread, they are soft, breathable, and washable.

I personally find these among the best looking sheets.
They're a really nice classic grey and discreet in their function. They're available in King, Queen, Half sheets in two sizes and matching grounding pillow cases.
They also come in a checkered beige. 

Simple to use, you just plug the cord into the ground port of your bedroom electrical outlet and start experiencing the many great benefits of having a grounded sleep.
Amerthing's fitted sheets come fitted with a bonus grounding wire and grounding bracelet, great for grounding when you're sleeping away from home.
2. CUAZCCS Grounding Sheets
CUAZCCS are one of the most popular brands of earthing sheets online. These sheets are made of 90% soft Organic Cotton and 10% Conductive Silver Fiber and come with a 15 foot grounding cord. 

You can get this sheet in four different sizes from twin to king.
They also sell a grounding half sheet in four sizes with a ton of reviews as well. Keep in mind it is a flat sheet and not fitted and you may want to size up to have more material to tuck under your bed.
This earthing sheet has a ton of positive feedback from improved and deeper sleep, less restlessness, to improved pain and stiffness.
3. Earthing Grounding Bed Sheets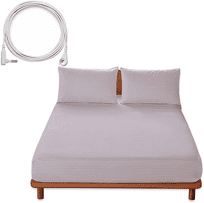 Earthing Grounding Sheets are one of my top recommendations for grounding bed sheets. They are made of 90% cotton, 400 thread count with 10% silver fiber. These sheets are soft, high quality, and very comfortable on your skin.
Earthing's fitted sheet has the most options, including six different sheet colors (grey, beige, green, white, blue stripe, and a small stripe) as well as a ton of sizes from twin and twin xl, to two different sizes of California king. 

You get a 15 foot grounding cord with this sheet, which I think is a great length. Earthing also sells matching grounding pillowcases, and flat sheets.
People who use these sheets report deeper and better quality sleep, improved circulation, less inflammation, less stress, and increased energy.
4. GroundLuxe Organic
GroundLuxe Organic fitted grounding sheets are made of 400 thread count, certified organic cotton and highly conductive silver thread, GroundLuxe's earthing sheet is soft, washable, and high quality.
This fitted sheet comes in queen, full or king in grey and checkered 'natural.' It also comes in twin and California king size but only in a beige color. Simply wash like your regular sheets, just don't use fabric softener or bleaches and use a delicate dry cycle.
Use this sheet to ground yourself while you sleep. Positive results include; reduced EMF fatigue, inflammation, headaches, stress and improved circulation, energy, and sleep.
Best Book On Earthing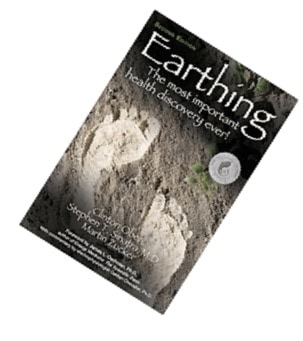 Get This Book – Earthing: The Most Important Health Discovery Ever

if you want to learn more about grounding and how amazing it is for your health then check out the book Earthing: The Most Important Health Discovery Ever by Clinton Ober, Stephen Sinatra, and Martin Zucker.
It has a ton of reviews. It has helped to improve many lives as so many readers immediately made changes to their lives to start grounding every day after reading this book.
Frequently Asked Questions
What are Grounding Sheets?
Earthing sheets are just like regular bed sheets except with a conductive material woven throughout, like silver fiber. The sheets are then connected by a grounding wire into a standard 3 prong outlet. Your body is grounded when your bare skin is in contact with the sheet.
Why Earthing Sheets?
Grounding or Earthing is an amazing and simple thing you should do for yourself every day. It improves healing and sleep, reduces pain and stress, is good for your heart and overall health.
How Do Grounded Sheets Work?
Every house has a grounding wire which connects your electricity to the ground. Earthing connects you to the Earth's electrons through the grounding port of your three prong outlet.
How Do You Wash Grounding Sheets?
Grounding fitted sheets should be washed at least twice a month. You'll want to follow the instructions for your specific sheets but typically you wash in your regular washing machine and dry on low or line dry. Don't use bleach, whitening detergents, fabric softeners, or dryer sheets.
How Long Does It Take To Feel The Effects?
Some people notice significant changes overnight, while it takes a few weeks for most people to feel the difference. Grounding restores your electrical balance, which affects everyone individually, including reduced inflammation, stress, pain, and improved sleep, circulation, restlessness, etc.
Should I Get Half Sheet or a Full Fitted Sheet?
For grounding to work, you have to have skin contact with the grounding sheet. A full sheet gives you more coverage area to be in contact with. If you toss and turn in your sleep, it would probably help to have the full-coverage grounding sheet.
How Long Should I Ground For Each Day?
This really depends on the individual, as everyone has different needs and everyone's health is different. However, ideally you should ground as often and as much as you can. This is why using a grounding sheet is beneficial. Sleeping is when you spend the most time in one place, giving you a lot of time to ground.
How Do I Know If My Outlet Is A Grounding Outlet?
You can test your outlet with an outlet checker, available on Amazon or your local hardware store for about $10.