Right from the beginning of pregnancy, our protective instincts kick in. We want to protect our babies in every way we can. Baby monitors are on the top of every baby prep list but they can actually be harmful to your little one. Here are the best low EMF baby monitors for 2022.
Best Wireless Baby Monitors for EMF Reduction
Research shows that digital baby monitors that are less than a meter away from your baby's crib emit almost the same amount of radiation as a cell tower that is 150 meters away.
The best option is an analog baby monitor.
Unfortunately they're a lot harder to come by these days but they are absolutely the safest choice for your baby with the lowest exposure to radiation.
I used to recommend several but you can't find them these days.
Low Emission Digital Monitors
Here is a list of the safest baby monitors when it comes to electromagnetic field emissions.
1. Bebcare Hear Audio Monitor with Ultra Low Radiation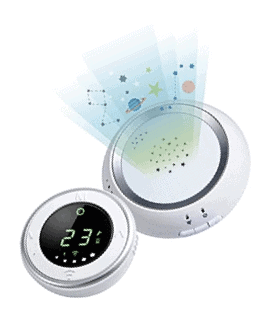 The Bebcare Hear Audio Baby Monitor uses DSR radio technology which reduces its wireless emissions by over 90% compared to other baby monitors. It does not require the internet and both parent and baby unit are hard-wired.
It has a 5 level sound indicator on the parent unit, and breathing sensor to monitor your baby's breathing for you.
It only goes on when the noise threshold has been met so you don't have to worry about hearing static white noise all night or your baby being exposed to constant transmissions.
The Bebcare monitor also plays multiple lullabies, has a night light, two way audio, and works up to 2000ft. This monitoring system does not come with a camera, it is audio only.
With over twenty years of making baby products and structured lab tests, not to mention positive reviews where people have tested this monitor with their EMF meters, this is one you can trust.
2. LeReve EMF Reduction Baby Monitor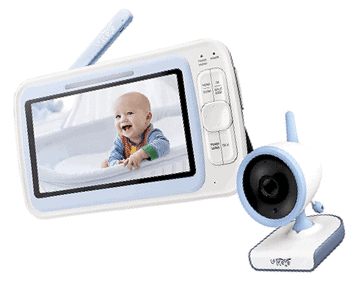 The LeReve EMF Reduction monitor has two-way audio, lullaby, 1000ft range, no Wifi, a 5" 720 HD screen, zoom, good sound, easy to use, and you can add up to four cameras.
If you're looking for a digital video monitor, it has all the features you're looking for.
But what sets this monitor apart is it has LeReve Radio Hibernation (LRH) technology.
When in eco mode, the camera turns off and stops transmitting to the parent unit. During this setting it emits extremely low EMF and RF radiation.
You select a loudness level and as soon as your monitor hears a noise at the level you desire, it begins transmitting again. So you get peace of mind knowing that while your little one is asleep they are not being constantly bombarded with EMFs from their monitor but you can still watch closely over them.
It's also a great price compared to other video monitors. Whenever you need to check on your baby or toddler, you can simply turn the camera on manually as well. It's the best of both worlds.
There are reviews on this unit, where people have tested levels with an EMF meter and in eco mode, it reads zero EMF levels. You still want to keep the camera at least 3 feet from your baby but this is one of the best options for a low EMF baby monitor on the market.
3. TimeFlys Audio Crown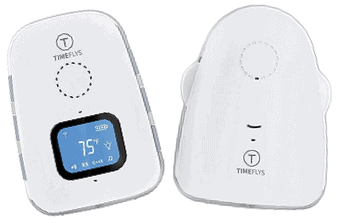 The TimeFlys audio monitor uses green technology and when in night mode it emits zero radio emissions.
When the noise in your baby's room goes over 50dB, the monitor will begin transmitting to the parent unit.
This monitor does not come with a camera. It transmits audio only, but includes temperature monitoring with alarm, lullabies, vibration, two-way talk, and a night light which can be remotely controlled.
Hard Wire Your Monitor for Best EMF Protection
Hard-wiring is the safest method of all—it bypasses Wi-Fi and Bluetooth altogether. It will mean running Ethernet cable to your baby's room, but this method offers the highest level of EMF reduction. You will need a monitor that has an Ethernet port.
4. Arlo Q Wired HD Security Camera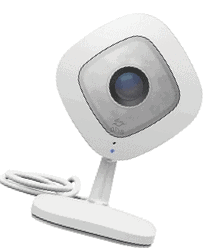 Although not specifically designed as a baby monitor, the Arlo Q security camera is an indoor camera that works through an ethernet cable. It does not have WiFi or Bluetooth capabilities.


You can securely connect it to an app on your smartphone to monitor your nursery. It has two-way audio, 1080p HD resolution, works with Alexa, and night vision capabilities.
One downside to this camera is that it records continuously, and doesn't have a night mode option. Even so, you still have the highest level of EMF reduction compared to any Wifi or Bluetooth monitor.
This camera is in the same price point as most video baby monitors but the bonus is you can convert it to a low EMF home security camera when your babies don't need it anymore.
Can EMF Monitor Radiation Harm My Baby?
Babies have thinner skulls than adults and are so much smaller in size, making them more vulnerable and susceptible to the effects of electromagnetic radiation.
Many studies on the subject have suggested that EMF (electromagnetic field) radiation of the type emitted by baby monitors has significant long-term health effects.
So what does this mean for you? It means anything you can do now to reduce your baby's EMF exposure can protect them and greatly reduce potential long-term health effects later in life. One way to do this is to go with the best baby monitor with the lowest emissions.
What to Avoid When Buying
If for whatever reason, you choose not to go with one of our recommended low-emission digital monitors or a classic analog monitor, please do not buy monitors with the following features.
WIFI
App that connects to your phone
Wireless Cameras
Wearable monitors (including sleep socks)
Monitors that do not have a night mode or eco mode
Are Wearable Monitors Safe?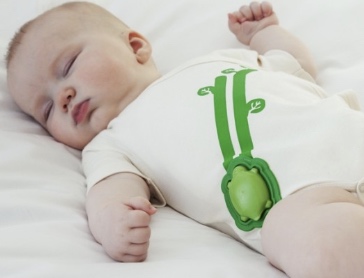 Wearable monitors are marketed well. They seem like the safest choice when you're a new parent worrying about SIDS, breathing issues, and just dealing with anxiety about leaving your new baby alone in their crib.
I get it, but they're actually the worst choice.
You're exposing them to even higher levels of radiation with the device actually on them or under their body – in close proximity to their head.
Research shows that children absorb more microwave radiation than adults are more susceptible to the negative effects.
Even the American Academy of Pediatrics cautions against using them (including the Owlet and other sleep socks), as they increase exposure to radiation and have high incidences of false alerts as a result of newborns' natural and irregular breathing patterns.
Analog vs Digital
There are two types of signals that baby monitors use: analog and digital. Analog models are the safest, but they are becoming hard to find. I used to recommend 3 or 4 but now you can't get them anywhere.
They use the FM radio frequency, usually at 40 MHz. Analog models are sound-only monitors.
Digital monitors, on the other hand, operate via Wi-Fi, Bluetooth, DECT (digital enhanced cordless telecommunications) or FHSS (frequency-hopping spread spectrum). They work at the 2.4 GHz (or 2400 MHz) microwave frequency, a far more potentially dangerous level than analog models.
If you feel you need more features than analog offers or just really want a video monitor, the next best thing would be low-emissions digital monitors or models with an eco mode, or sound activation. These units don't produce high emissions constantly.
They power up only when they detect sound, which offers a moderate level of EMF protection.
How Do They Work?
Wireless baby monitors emit RF (radiofrequency) radiation, a type of EMF (electromagnetic field) radiation that all electronics give off. The monitors that are considered safest emit radiation in the FM radiofrequency range.
Most baby monitors models run in the higher microwave range, however. This is the same type and at the same high level as Wi-Fi and cell phones. These levels of EMF are considered harmful to adults and worse for children.
A Final Word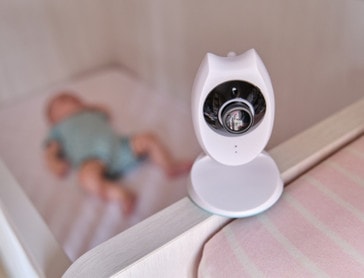 Regardless of which monitor you choose , you should locate your monitor as far from the baby as possible without giving up functionality.
The closer your baby is to EMF radiation, the more they will absorb.
We all want to do what's best for our kids, but it's not always easy to know what that is.
When it comes to EMF radiation, with a little research and a lot of common sense, it's fairly easy to make a responsible choice. I hope you have found my list of the lowest emission baby monitors helpful.