Grounding mats realign your electrical energy by reconnecting you to the earth and its negative charges. Your mat connects you through a grounding port of an electrical outlet returning your body to a neutral state.
Scientifically proven and practiced around the world, it also neutralizes free radicals and protects you from electromagnetic radiation.
Grounding (or earthing) has so many proven benefits including;
Reducing Inflammation, pain, and stress
Improving sleep quality, circulation, digestion, and healing
Increasing energy, immunity, and greater well-being
Restoring balance to your body, and more
So simple, it requires no effort from you but will have a powerful affect on your life and health. It's literally something you can benefit from in your sleep.
Top Grounding Mats of 2022
Many people notice overnight changes after using a grounding mat. Your body will thank you so get using a grounding mat right away. You want the best grounding mats as they have the best feel to them, are durable and long lasting, and safe.

Here are the top grounding mats and earthing mat kits that I recommend for you.
1. Earthing Grounding Mat
My number one mat recommendation is this universal Earthing grounding mat. It is highly rated and really popular. You get two mats in the pack as well as two 15 foot grounding cords, two safety adaptors, and an outlet tester. The tester makes sure the wall outlet is grounded.
The mats measure 12.5×29 inches and are among of the longest mats I've seen. Receive electrons and improve your health while you sit and watch a show, work, or read.
Enjoy the positive effects while you rest your feet or stand on your mat while doing dishes, cooking, yoga, or brushing your teeth. You can even sleep on these grounding mats.

Earthing's mats are backed by 20 years of research and are official Clint Ober patented mats.
They're made of conductive carbon and high quality materials and are easy to use and clean. This earthing mat is a safe way to ground yourself indoors.
Bonus – your mat also comes with a free book, "Earthing: The Most Important Health Discovery Ever" by Clint Ober, Dr. Stephen Sinatra, and Martin Zucker.
Earthing also makes grounding starter kits, mattress pads, pillowcases, grounding patches, and a variety of different size mats for all your grounding needs.
2. Earth and Moon – Universal Starter Kit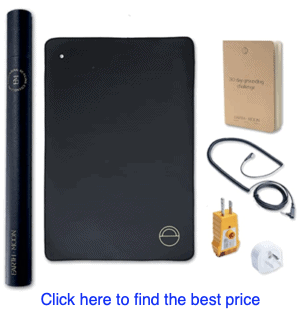 My second recommendation is the Earth and Moon Grounding mat, which comes with a complete kit, including; an extra long anti-tangle grounding cord, a safety adaptor, an outlet tester and a case.
Made of high quality, soft vegan leather with highly conductive materials (infused with carbon), this mat is breathable, comfortable, flexible, and durable so it will last you a long time. I like that this mat comes with cylindrical case for easy storage, protection and easy travel with your mat.
You get a large mat at 35.43×23.62 inches making it great for sleeping on, yoga, or reiki. Like the other mats, it is a universal mat, so you can sit and stand on it or rest your feet on it while you do pretty much anything.
Earth and Moon also makes a smaller mat and has larger kits with two mats (one large and small or two large earthing mats) so you can find the right mat for your needs. They also have a lifetime manufacturer warranty so you can trust this mat will be with you for a very long time.
Bonus – you also get a 30 day grounding challenge journal to help keep you grounding daily and to help with mindfulness as you reconnect, rebalance, and heal yourself.
3. ATE Health Kit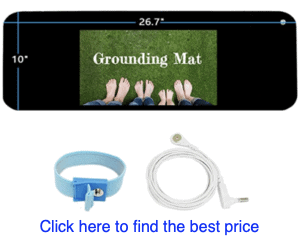 My third favorite earthing mat is the ATE Health grounding mat. This mat is 10×26.7 inches and comes with a 15 foot grounding cord with a built in safety resistor. You also get a bonus grounding wristband with this mat.
Use the mat any way you'd like as long as your skin is touching it; sitting, standing, sleeping on it. You can even use it as a laptop mat. As long as your skin is on the mat, it is connecting you to the earth and improving your health.
Made of vegan leather, carbon, and a high quality SBR foam, all materials are eco-friendly and non-toxic. ATE also makes grounding sheets and pillow cases and has a lot of positive feedback and happy users who have seen amazing effects from using their grounding mat.
ATE also sells an earthing kit, which comes with two mats, two grounding cords, and two wristbands so both you and your significant other can get grounded.
4. LandKissing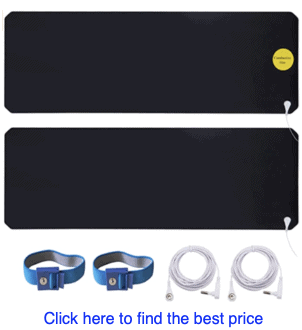 You may also want to check out the LandKissing Grounding Mats Kit. You get two 9.8×26.7 inch mats, two 16 foot grounding cords, and two portable grounding wrist bands with 10% conductive silver fiber, and at a really great price.
Made with conductive carbon fibers, rubber, and PU (feels like leather) these mats are soft, comfortable, durable and flexible.
The wristband is small and light and can fit on a small ankle. This is a great option for grounding when you're not at home or if you are somewhere you don't feel comfortable taking off your shoes and socks.
This mat kit is a great price, really popular and highly rated with many who reported this mat to be life-changing for them.
5. Hooga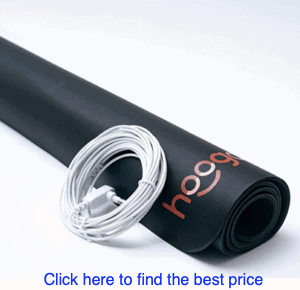 The Hooga Grounding Mat is another great mat I recommend. It is a shorter mat so not ideal for sleeping on but it's great for standing on. I keep one in my kitchen to use for food prep and cooking. It's also great for under your desk while you work.
Inexpensive but made of high quality rubber backing and conductive vegan leather, it's durable, high quality, soft, and flexible. This mat comes with a durable 15 foot grounding cord.
Hooga is a reputable American company that focuses on helpful high quality products. They have a larger two pack grounding mat, a 71x24inch grounding yoga mat, grounding mouse pad, pillow cases, dog bed, and an earthing blanket.
I love their non-blue light reading light. It is the only reading light I use. They also have blue light blocking bulbs, weighted blankets, low EMF red light therapy devices, color therapy glasses. I'm very happy with this company and the products they offer.
Best Grounding Starter Kits
You're ready to connect to the earth's natural powerful energy to rebalance yourself and improve your health, but where do you begin? There are a lot of options for grounding. If you are looking for more than a mat, here is the best grounding starter kit.
Earthing Starter Kit
The Earthing Starter Kit is one of my top recommendations for getting started with Grounding. It contains everything you need for day and night grounding. This kit hast he best value, saving you money by buying all the items in one kit instead of one at a time.
This kit includes;
One Earthing grounding pillowcase
One large Earthing elite grounding sleep mat
30 Earthing grounding patches
One outlet checker
One product tester
Three 15 foot grounding cords
4 US Safety adaptors
Bonus copy of Earthing: The Most Important Health Discovery Ever!
Earthing is a great brand with high quality products. They have spent the last 20 years researching the effects of grounding humans to the earth and have patented their products so you can ground safely indoors.
Very popular and highly rated for their many grounding products, Earthing is definitely a company I recommend you buy from. There's a reason it's my number one recommendation in almost every category.
Grounding Mattress Pad
You can use your grounding mat on your bed but for everyday use, especially if you move around at all, I recommend that you get a specific grounding mattress cover. It comes with straps to keep the mat fixed to your bed. This way your grounding pad doesn't move when you do. Here is the best grounding mattress pad.
Earthing Grounding Mattress Cover
My number one recommendation is the Earthing Grounding Mattress cover. It comes in a variety of sizes from twin to California king and covers the size of your whole bed. So you (and whoever you share a bed with) will always be in contact with the mat.
It is smooth and comfortable but if you prefer you can use your regular sheets on top of the grounding mat or sleep on it directly.
This mat comes with a 15' coil grounding cord with a 100k ohm resistor, a safety adaptor, an outlet tester and a copy of the book 'Earthing: The Most Important Health Discovery Ever!" It is a Clint Ober official product and patent-protected.
Newbeau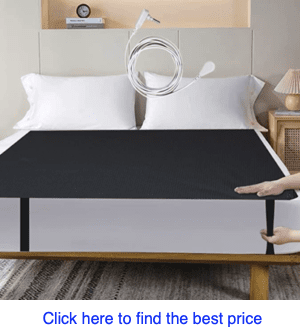 The Newbeau grounding mat has breathable holes which help with temperature regulation. You tend to be a warmer temperature on this mat as it helps to improve your circulation. The Newbeau mat will help keep you a comfortable temperature.
It comes in half size and full size, has straps to secure it to your bed, and is made of high quality leatherette and highly-conductive PU. You also get a 15' grounding cable. It is a comfortable earthing mattress cover to sleep on.
You will notice a huge difference in your sleep once you start using it. You can get it here.
PANBMAO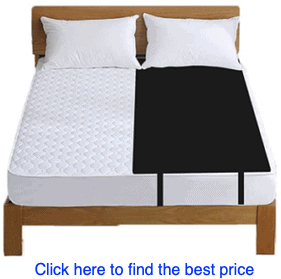 Available in Canada, the US, and many other countries the PANBMAO grounding mat is a comfortable, breathable, and safe mat for your bed. It comes in a half pad and full-size mattress cover at a great price.
Made of vinyl-free PU conductive leather, it is high quality, eco-friendly, and non-toxic with built in 100 kohm safety resistors. So easy to use, with no effort from you to get you sleeping better and improving your health.
NeatEarthing Grounding Sleep Pad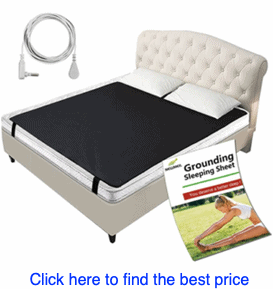 Highly rated, the NeatEarthing Grounding sleep pad comes in half size (27×71 inches) or full size (54×71 inches). A great choice for relieving pain, increasing your energy, and better quality sleep.
Made of a conductive carbon leatherette (make sure leather-side is up) with a perforated design, it is comfortable on your skin and breathable.
It comes with a 6 foot cord and straps to keep this pad in place on your bed.
NeatEarthing also has a grounding pillowcase made with a silver grounding thread. A great addition to your bed as you will always have skin contact with your pillowcase.
Grounding Pet Bed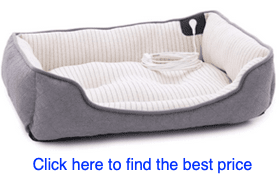 You want the best for your pet's health as well as your own, so why not switch your dog or cat bed to a grounding one to improve their sleep, health, and quality of life?
The Hooga Grounding Pet Bed for dogs, cats, and any other pet that likes a bed is the best grounding bed available. Made of polyester and cotton with a conductive silver, you simply snap the grounding cord to the bed and the grounding port of your outlet.
Available in two sizes (small/medium and large/extra large) it will fit most indoor pets and comes with a 15 foot cord so can be placed anywhere in your home. 

I have heard many reports of dogs loving this bed and choosing it over their regular ones.
Grounding can help your dog with their pain and inflammation, anxiety, improve their immunity and protect them from the effects of electromagnetic radiation, among other amazing benefits.
How Do I Clean My Grounding Mat?
Do not put your grounding mats or mattress covers in the washing machine. It is best to wash these mats by hand with a dampened cloth and only use soap and water. Do not use bleaches, natural oils, or coconut oil on this mat as it will affect their conductivity.
Do I sleep Directly on the Mat or Under a Sheet?
You want to sleep directly on the mat with your skin touching the mat for it to have the greatest grounding effect on your body. A good excuse to sleep naked! This is why I recommend a high quality mat so that it is comfortable on your skin.
If you use a grounding mattress cover you can use a regular sheet on top or lay on it directly. It's up to you.
What is the Best Book on Grounding?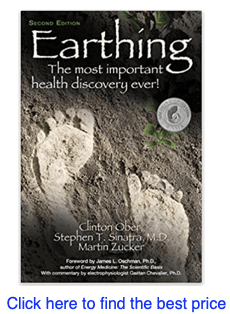 A great place to start is with "Earthing: The Most Important Health Discovery Ever!" By Clint Ober, Dr Stephen Sinatra, and Martin Zucker. This book comes free with any Earthing grounding product or you can get it by itself.
It is an easy to read book that explains how grounding has improved the quality of life of so many people, promoting healing for many illnesses and conditions. It's really helpful and informative.
The earthing book is available on kindle, paperback, hardcover, and on MP3 CD.
Do I Need A Grounding Pad to Get Grounded?
Grounding occurs when you make skin contact with the earth; including grass, sand, water in lakes or rivers. Unfortunately today we don't spend enough time outdoors and barefoot. In the city it is harder and harder for you or your pet to ground themselves in nature.
This is why it's amazing that we can now use grounding mats to make that same connection to find balance, improve our health, and neutralize harmful free radicals (including EMFs). Since we spend so much of our time indoors, you get the benefits of grounding while working, sleeping, and doing your daily activities that must be done inside.
If you live in a climate where it gets really cold, you also don't want to be out barefoot in the snow or freezing temperatures. This way you can ground yourself year round.
What Do I Do if there is a Thunder and Lightning Storm While I'm Grounding?
Quality grounding mats have built-in safety resistors to protect against very rare power surges from the earth. It is very unlikely that there would be any affect on you if the ground nearby was struck by lightning.
You're not actually using electricity from your house when you plug in the mats as they are only connected to the grounding wire which goes outside your house into the ground.
However, I am not a professional so it is still probably safest to not use your mat during a storm or do more research on this topic yourself to decide what is best for you.