If you are looking for a low radiation router to lower the overall EMF exposure in your home then my JRS Eco wireless router review is for you.
There is a reason this brand is my top recommendation for low EMF Wi-Fi routers and why I use it in my own home.
Did you know that wireless routers emit electromagnetic radiation all day and night. The router broadcasts beacon signals 10 times a second even when not in use. They also emit at a rate much higher than necessary since there usually isn't a way to adjust the power.
Firmware On Asus Routers

There is one company that came out with a firmware that works on modern Asus wifi routers called JRS Eco Wireless.
It was invented by a guy named Jan-Rutger Schrader who has a PhD.
JRS ECO Router Vs Standard WiFi Router
Watch the video below to see the difference between regular routers and the low emf router.
JRS Eco Wireless Router Review
The Eco router cuts down on electrosmog by reducing the beacon pulse frequency by 90%. The unique JRS Eco firmware minimizes radiation without sacrificing performance.
JRS ECO 100 models even include a completely radiation free full stand by mode that switches off the wireless signal entirely when no devices are connected.
When you need to turn the WIFI on, simply turn the WIFI on from your device and the router turns back on automatically.
Additional features are a fine tuning of the range, a wireless scheduler and a wireless lan on and off button on selected models.
Together these features make the ultimate low EMF router. This is one of the best ways to cut down on electrosmog in your home.
ECO Router Options
They sell 3 different ASUS routers that are preloaded with their firmware. If you already have an ASUS router you may want to just purchase their firmware to install on your existing router. The available routers are:
JRS Eco 100 D2 on ASUS
JRS Eco 100 D1 on ASUS
JRSeco 01A on ASUS
Click here to see a table comparing the features of all three.
Zero Electromagnetic Emissions Firmware
All the routers sold come with the firmware already installed on it or you can buy the firmware separately and install it yourself. Here are some of the advantages of the firmware:
In eco mode there is 0% electromagnetic emissions and the device is on standby mode (when nothing is connected). When a device is connected to the wireless internet the WiFi radiation is reduced by 90% because the signal is only transmitted once every second. Compared to regular routers that transmit 10 times every second.
Set To Turn Off Automatically
You can set the schedule so that the router turns completely off automatically. Most people choose to do this at night time but if you work during the day and have pets at home you could set it to turn off during your shift. You can use the wired internet (LAN ports) while the wireless is turned off.
There is an easy on and off switch to turn your Wi fi on and off whenever you want to while still being able to use wired internet. I personally love this feature because my old wireless router didn't let me turn the wireless off at all.
If you are purchasing only the firmware it can only be installed on the ASUS RT-AC68U or the RT-AC66U B1 models. You should choose this option if you already own on of these routers or you want to save money on shipping or time and buy them locally.
How to Choose The Right Router
I've made a list of my top recommendations for low EMF Wi-Fi routers here. JRS Eco is at the top of this list.
It's important that you pick the router that will get the maximum speed that your internet package gets. You can get an accurate measurement from speedtest.net. You could also check with your internet provide what the maximum speed your package offers but you don't always get the full speed so it's a good idea to verify with speedtest.net, it only takes a few seconds.
I live in a rural area where my internet is slow but I still verified this on speedtest.net (screenshot). I only need the entry model because my speed is 22.57 Mbps it wouldn't make sense for me to buy there expensive faster model unless I knew my internet would be upgraded soon.
The one downside to picking the JRS Eco 01A is that it doesn't have the feature of full Eco zero emission stand by mode so I choose the 100 D1 instead.
01A Model
N300 router
25 mb/s (Megabits per second)
Here is a list of the things that the 01A model doesn't offer compared to the other two models:
Doesn't have full eco zero emission stand by mode
Doesn't come with dual band (extra channels at 5 Gigahertz
Doesn't have as far as range as the other models with 2 antennas
Doesn't have gigabit ethernet LAN ports
Doesn't come with two USB ports for sharing USB storage and print server
This doesn't mean that you shouldn't buy this router because not everyone needs the extra speed and features. This can still be an excellent choice if you are looking for a cheaper option and have a slower internet connection and 91 people have left positive reviews giving it a 4.86 out of 5 star rating.
Models 100 D1 and D2
Both the JRS Eco 100 D1 and D2 routers share most of the same features:
They both get speeds up to 150 Mbps through 2.4 GHz wifi network
They both get speeds up to 400 Mbps through 5 GHz wifi network
The D1 model doesn't have the on/off switch to manually turn the wireless on and off. The antennas don't detach like the other two models (not sure why this would be important).
You can see table of all the features for all 3 models here.
EMF Meter To Measure Radiation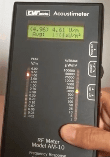 You can easily measure the radiation coming from your router before and after installed your new JRS router by using an emf detector. Buying a EMF detector is a good investment to make so that you can find the sources of EMF radiation inside and outside of your home.
You may also be interesting a wireless router guard cover to reduce your router radiation output. I recently posted an article on 6 ways to protect yourself from wifi router radiation that is worth a read.
Wrapping It Up
As you can see there are many advantages to the JRS eco wireless routers so if you are electromagnetic sensitive or looking to reduce the EMFs inside your home than one of these routers are definitely worth it.
All Eco routers are compatible with AT&T, Verizon, Time Warner, Comcast and other providers, you can easily connect it to your existing modem to reduce EMFs.