Since you are reading this article about the best EMF meters and detectors I assume you already know that we live in a world where we are constantly being exposed to harmful electromagnetic fields (EMFs).
Impossible To Avoid EMFs
Unfortunately in our modern world it isn't possible to get away from the radiation that is all around it.
Your TV, cell phone, tablet, smart watch, radio, laptop and all the other electric devices that surround you all emit harmful EMFs.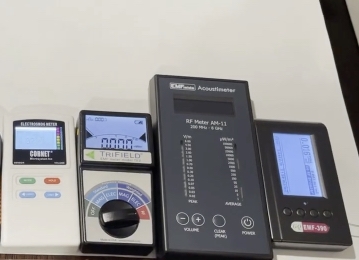 Not to mention the radiation that wifi, Bluetooth and electricity all produce.
One of the first steps you can take to protect your family is to invest in a quality EMF meter or detector.
Why An EMF Meter?
An electromagnetic field meter will help you reduce the levels of radiation in your home by locating exactly what is putting out the highest levels of radiation.
What Is The Best EMF Meter?
With so many detectors and meters on the market it can be overwhelming trying to decide what one to buy.
That's exactly why I have spent hours researching and testing multiple meters to find the best ones. I have put together this list of the top 7 best EMF readers.
1. TriField EMF Meter TF2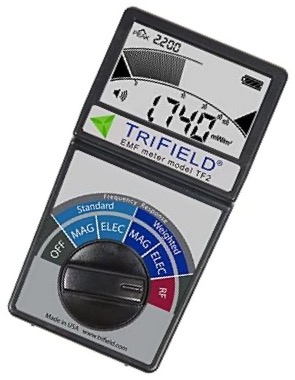 The TriField TF2 is one of the best selling meters on the market and for good reason.
This professional grade meter can detect three kinds of EMF radiation: AC magnetic, AC electric, and RF/microwave. It's easy to use and it's a great option for anyone concerned about radio frequency in addition to EMF radiation.
The TriField's unit detects an impressive range of frequencies for each type of radiation, allowing you to better home in on which devices in your home are putting your family at the most risk.
One of my favorite features of the Trifield meter is the fast indicator bar that quickly show the hots spots. You can also adjust the brightness of the screen which can come in handy.
2. Advanced GQ EMF-390 Meter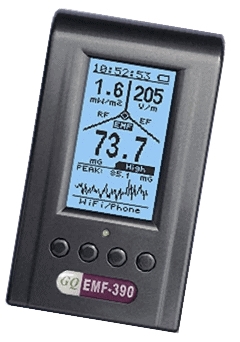 The GQ EMF-390 digital meter will allow you to easily and quickly detect EMF, ELF, EF, and RF radiation from all electronic devices both indoors and outdoors. For a limited time it's on sale for 24% off which is almost $40 in savings.
It detects a huge frequency range (EMF 0- 500mG and RF up to 10GHz) and has multiple sensors for highest accuracy and maximum range measurement.
This meter can identify and recognize radiation sources including power lines, cell phones, WIFI, cell towers, microwave, smart meter etc. With a built in audio and visual alarm and all-in-one display to see readings from all sensors at the same time.
Here are some of the features:
High sensitivity sensors
Ultra-fast readings
Advanced functions
Portable and convenient
Built-in memory for data logging
Safety Suggestions to understand your readings immediately
This meter has one of the best sets of capabilities in its class.
3. EMFields Acoustimeter AM11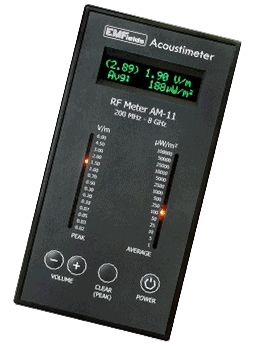 The EMFields Accoustimeter AM11 is an incredibly accurate, powerful and user-friendly device. It detects a wide spectrum from 200 MHz up to 8 GHz and comes with a two year warranty.
This will correctly measure radiation from RF sources including; mobile phones, WiFi, Bluetooth, cell towers, microwave ovens, cordless phones, smart meters, wireless printers, mice, keyboards, etc.
The Acoustimeter is one of the only RF reading devices that uses a time-average power measurement, meaning it gives you an accurate average power and peak (V/m) power. It's also omnidirectional.
It does not measure ELFs (extremely low frequencies) however, near 60Hz, so will not pick up power lines or dirty electricity. For this, you'll want a gaussmeter.
I love that this is a small device so it's easy to take it places and that it uses a combination of LEDs, number readings, and audio output to help you identify the source of the RF signal you are measuring.
4. EMRSS Cornet ED88T Plus2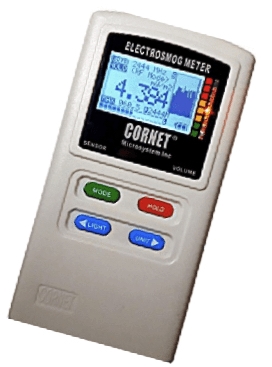 The Cornet ED88T Plus2 by EMR Shielding Solutions is a broadband Tri-mode instrument, that measures a wide range of frequencies from 100MHz to 8GHz. This includes (LF)low frequency magnetic fields, (ELF) low frequency electric fields, and RF frequencies.
This means it will assess electromagnetic radiation from your cell phone, WiFi, power lines, transformers, towers, microwave leakage, electronics, appliances, telecommunications, etc. It also detects spy cameras and wireless bugs.
This instrument uses a Histogram and level display, has sound signature analysis, and connects to your PC for easier data tracking and logging. It also stores 1000 readings automatically and measures in time intervals so you can record bursts.
4. Latnex MG-300 LF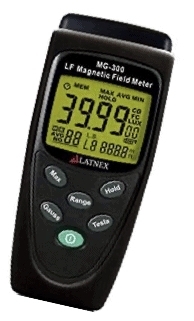 The Latnex's MG 300 has many of the standard features you'd expect. With a detectable frequency range of 30Hz to 300 Hz, this meter can detect frequencies from high power lines, air conditioning units, refrigerators, appliances, computer monitors, audio and video devices and more.
This meter is commonly used for EMF home inspections, measures 130(L)*56(W)*38(H)mm, weighs about 170g and is reasonably priced.
Here are some of the features I like:
Easy to use
Single axis sensor
Data/max hold function
Long battery life (approx 100 hours)
Measure in μT and mG
Comes with a black protection boot and carrying case
If you are looking to measure electrical fields with high frequencies RF waves I recommend you check out the LATNEX AF-3500 or AF-5000 that measures high frequencies too.
5. Latnex HF-B3G Meter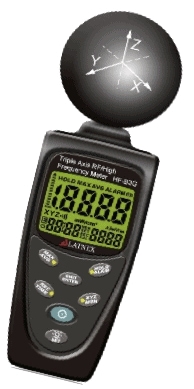 Latnex earns a second spot on this list with the HF-B3G. The HF-B3G meter is a solid, high end detector worthy of consideration.
The LATNEX HF-B3G is ideal for anyone looking to measure radiation from cell phone towers, smart meters, microwaves, Bluetooth, cell phones, WIFI modems and more.
Here are some of the features:
Beginner and advanced operation modes
Alarm/buzzer function
Tri-axial sensors
Data memory storage
Battery life approximately 15 hours
Digital clock
Capable of detecting frequencies in the 50MHz to 3.5GHz range, this device is ideal for detecting frequencies from a wide variety of devices, including wireless bugs and spy cameras. This meter comes with an aluminum case.
6. Meterk Meter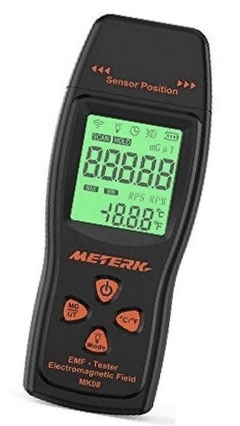 The Meterk Meter is ideal for anyone on a budget looking to measure low frequency home appliances such as refrigerators, fans, cell phones, televisions, induction cookers, rice cookers, computers and laptops, electrical wires, low frequency home appliances and more.
One cool feature about I like about this meter is that it measures the magnetic field and temperature radiation at the same time.
Here are some other features:
Sound light alarm (automatic when results exceed safe value)
Data hold
Low battery indicator
Can set to read in Celsius or Farenheit
Auto power off
Backlight LCD display
This meter is easy to operate with one hand measuring at only 1.97 inches wide and 1.06 inches thick.
7. KKmeter EMF Detector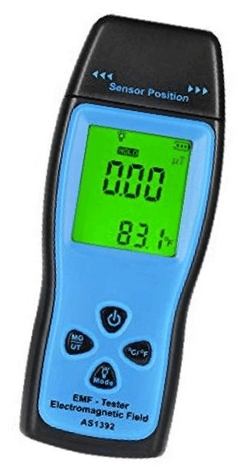 If you're on a tight budget the KKmeter might be for you. It can be difficult to justify purchasing one. You want to keep your family safe, but the high-end detectors out there are an expensive initial investment.
This meter can detect frequencies electric from 0 to 2000mG and magnetic from 0 to 200μ, which is an impressive range for a budget detector.
Here are some of the features:
Large and clear LCD display
Easy one hand operation
Sound and light alarm
Date hold and maximum measurement
Tests both temperature and magnetic field radiation.
The KKmoon is a quality detector suitable for anyone looking to buy a meter on a budget.
How Do They Work?
EMF meters work by detecting the electromagnetic fields (EMF) that are emitted by electronic devices and appliances. The strength of the EMF is typically measured in milligauss (mG) or microtesla (µT).
EMF meters usually have a display that shows the strength of the EMF in real-time, and some models also have an audible tone that increases in pitch as the EMF strength increases.
Measuring EMF Radiation
The readout on the EMF tester starts at a small green light and jumps to a fourth or fifth bright red light. There's also a digital readout screen. On the digital readout screen, you will see numbers in .1 increments. The lower the number, the safer the electronic device. The ideal is to have a device read exceptionally low or not read at all.
If you don't have other protective measures in place like a Wi Fi router guard, it is certain that your WiFi router will have readouts on the EMF meter. Computer, laptops, cellphones, smart TVs etc will all have readouts on the detector. Really high readouts are usually anything above 1.0, and anything above 1.5-2.0 is considered dangerous to your health.
Most objects will have a readout of .4-1.0. That is common and it is considered safe, although you may still want to reduce those amounts anyway. Some people are especially sensitive to readouts that fall in the safe zone, and have been negatively affected.
A good EMF detector is a useful tool to have when it comes to protecting your family against EMF radiation. No matter what your budget, there is an meter out there for you. I hope you have found my list of the 7 best emf detectors helpful.
Summary
EMF's are literally everywhere and virtually unavoidable. Many experts have done research that has linked even low levels of radiation to harmful health consequences.
You can't get away from being exposed to EMFs completely but there are some reasonable things you can do to minimize the risks associated with its exposure. One of the best ways you can do this is by investing in an electromagnetic field detector to find out what the biggest sources are.
Luckily there are all kinds of products on the market that will reduce your exposure to EMFs everything from cell phone cases blockers, laptop shields etc etc. which I will discuss in more detail below. You can use your EMF radiation detector and to see if the levels have been reduced.