Since you are reading this article about EMF detectors and meters I assume you already know that we live in a world where we are constantly being exposed to harmful electromagnetic fields (EMFs).
Unfortunately in our modern world it isn't possible to get away from the radiation that is all around it. Your TV, cell phone, tablet, smart watch, radio, laptop and all the other electric devices that surround you all emit harmful EMFs. Not to mention the radiation that wifi, Bluetooth and electricity all produce.
EMFs are literally everywhere and virtually unavoidable. Many experts have done research that has linked even low levels of radiation to harmful health consequences. You can't get away from being exposed to EMFs completely but there are some reasonable things you can do to minimize the risks associated with its exposure.
Luckily there are all kinds of products on the market that will reduce your exposure to EMFs everything from cell phone cases blockers, laptop shields etc etc. which I will discuss in more detail below. You can use your meter to see if the levels have been reduced.
One of the first steps you can take to protect your family is to invest in a quality EMF meter or detector. A meter will help you reduce the levels of radiation in your home by locating exactly what is putting out the highest levels of radiation. With so many detectors and meters on the market it can be overwhelming trying to decide what one to buy.
That's exactly why I have spent hours researching and testing multiple meters to find the best ones. I have put together this list of the 7 best EMF meters and detectors.
Best budget detector: KKMoon EMF Meter
If you're on a tight budget, it can be difficult to justify purchasing one. You want to keep your family safe, but the high-end detectors out there are an expensive initial investment. Fortunately, there's KKMoon's for under $25 the last time I checked. Click here to check it out.
This meter can detect frequencies from 5Hz to 3500MHz, an impressive range for a budget detector.
With an LCD back light display, high sensitivity readings, and a durable case, this is a quality detector suitable for anyone.
Runner up: Hinmay Digital EMF Meter
Hinmay's Digital Meter is another great option for anyone looking to buy one on a budget. This meter is under $20 and has a sensitivity range of 30Hz to 300Hz. While it may not be as sensitive as KKMoon's, Hinmay's is worth considering because of its ability to detect both electric and magnetic radiation. Features of Hinmay's meter include the ability to freeze readings, an alarm that both makes noise and lights up, and an easy-to-read LCD display.
Best moderate detector: Meterk EMF Meter
The Meterk Meter is ideal for anyone who is still budget conscious, but able to invest a little more money in higher quality. This meter measures both electric and magnetic fields to deliver a more accurate reading.
It also includes an LCD display that shows the intensity of the reading, two different temperature sensors, and a frequency range that includes cell phones, computers, and many other devices. Meterk's meter has a price tag of $50. Click here to check it out.
Runner up: Latnex MG 300
The Latnex's MG 300 has many of the standard features you'd expect from a midrange unit. With a detectable frequency range of 30Hz to 300 Hz, this meter can detect frequencies from power lines, air conditioning units, and other larger transmitters of EMF radiation. It sells for just under $100 and comes with a carrying case and an LCD display.
Best high-end detector: Latnex HF-B3G
Latnex earns a second spot on this list with the HF-B3G. The HF-B3G meter, a $150 detector, is a solid, high end detector worthy of consideration.
Capable of detecting frequencies in the 50MHz to 3.5GHz range, this device is ideal for detecting frequencies from a wide variety of devices, including wireless bugs and spy cameras.
Runner up: TriField EMF Meter Model TF2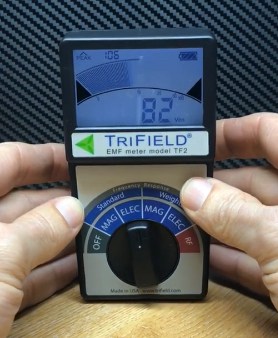 The TF2 from TriField is selling for under $170 last time I checked and detects three kinds of radiation: magnetic, electric, and RF (microwave). This is a great option for anyone concerned about RF in addition to EMF radiation.
The TriField's unit detects an impressive range of frequencies for each type of radiation, allowing you to better home in on which devices in your home are putting your family at the most risk. Click here to check it out.
How to Measure EMF Radiation
The readout on the meter starts at a small green light and jumps to a fourth or fifth bright red light. There's also a digital readout screen. On the digital readout screen, you will see numbers in .1 increments. The lower the number, the safer the electronic device. The ideal is to have a device read exceptionally low or not read at all.
If you don't have other protective measures in place like a Wi Fi router guard, it is certain that your WiFi router will have readouts on the EMF meter. Computer, laptops, cellphones, smart TVs etc will all have readouts on the detector. Really high readouts are usually anything above 1.0, and anything above 1.5-2.0 is considered dangerous to your health.
Most objects will have a readout of .4-1.0. That is common and it is considered safe, although you may still want to reduce those amounts anyway. Some people are especially sensitive to readouts that fall in the safe zone, and have been negatively affected.
A good EMF detector is a useful tool to have when it comes to protecting your family against EMF radiation. No matter what your budget, there is an meter out there for you. I hope you have found my list of the 7 best emf detectors helpful.