So why air tube headphones? When you use regular headphones or ear buds you are literally sending EMF radiation through metal wires straight into your head. And if you use wireless headphones then you are also sending RF radiation on top of the EMFs into your head.
So stop for a minute and think about how long you have your ear buds in your ears while streaming, gaming, chatting, or listening to music.
I stopped using them a while ago and switched my entire family to anti radiation air tube headsets, an amazing invention that uses hollow tubes to transmit sound into your ears, keeping the speaker further away from your head and reducing your exposure to EMFs. Most of them have microphones so you can use them to talk on your cell phone if speakerphone isn't an option.
And trust me, my family will not be going back!
The 7 Best Air Tube Headphones
Here are the 7 best air tube headsets currently on the market. If you are curious, we use the DefenderShield ones.
1. DefenderShield EMF-Free Earbuds

If sound quality is important to you and you want peace of mind while using headphones then the DefenderShield air tubes are the best option for you. Click here to visit the Official Defendershield website.
Numerous independent testing and user reviews have cemented DefenderShield's status as the best air tube headphones available for users by far.
Other Options Available
Radiation Protection: DefenderShield air tube headsets reduce radiation by 99%. Durable hollow tubes transmit high quality sound instead of wires and you get additional protection from Extremely low frequency (ELF) radiation through a copper infused cord.
Sound Quality: Designed by audio engineers, they deliver crystal clear sound through professional grade speakers, unmatched by any other air tubes currently on the market. Although not noise-cancelling they nearly eliminate background sound. The hollow tube also allows for more depth to the sound, producing superior acoustics.
Convenience: Built-in hands free mic with audio controls to play, pause, skip, answer and end calls, and connect to voice assist. Tangle free cord and extremely durable and flexible air tubes.
Comes with a clip, three sizes of tips for a custom fit, as well as three sizes of sports tips to keep them comfortably in your ear while exercising, running, or playing sports.
Warranty Policy: DefenderShield EMF-free headphone come with a 1-year warranty.
Features:
Crystal clear sound with no distortion
Durable and strong air tubes
Blocks 99% EMF radiation
Muffle-free conversations
Can be used with all phones (adapter may be required)
2. SYB Headset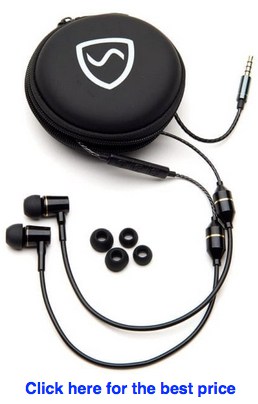 This anti radiation headset by Shield Your Body (SYB) is one of the best on the market. SYB is based in Las Vegas, Nevada, and since its inception in 2012, the company has earned a reputation for creating products to protect users from excess exposure to EMF radiation.
Radiation Protection: SYB protects you from radiation at a rate of 99%. Their great airtube headsets are entirely free of metal or magnets. With this, users do not have to worry about EMFs.
Sound Quality: While the air tube technology reduces sound quality, SYB can maintain crisp, clear sounds and superb bass to rival some regular headsets or set it apart from other brands. The audio is crystal clear for your calls, music, podcast, and audiobooks.
Convenience: They have a built-in microphone with a slider for volume control, audio playback, and one-touch call answering, come with three sizes of ear bud covers but in-ear and over-ear options, and a carrying case.
Warranty Policy: SYB offers a lifetime warranty.
Features
Sleek classic design
Comes with a carrying case
Volume control, playback and other functions
Incredibly clear sound
Water resistant and detachable
3. SYB Headset Anti-Radiation Device
While not technically an air tube headset, the SYB Headset Anti-Radiation Device is the perfect alternative.
Especially if you don't like the idea of losing sound quality, or you want to keep using your regular headset.
Absorbs Radiation
The SYB HARD contains a dielectric gel that absorbs radiation emitted from your device.
You only need to connect the HARD to your device, then connect your regular headphones to the HARD. It will block 99% of the radiation without sacrificing audio quality.
The SYB HARD devices are compatible with any device, including smartphones because it comes with a 3.5mm jack and USB-C. The sleek, portable design allows you to always have it with you and it doesn't require batteries.
4. Atmosure Anti-Radiation Headphones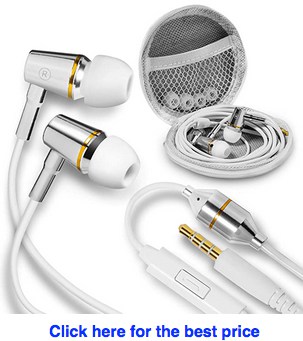 Atmosure anti-radiation headphones offer excellent radiation protection, sound, and comfortable design.
Radiation Protection: Atmosure EMF free headphones blocks radiation up to 99% in four ways. They have metal-shielded wires to prevent radiation from traveling through the cord, air tubes, and a built in sonic concentrator filtering speaker.
Sound Quality: These deliver clear stereo audio that is great for music, podcast, audio books, and calls.
Convenience: This headset has a microphone for optimal sound input and a single button to answer or end calls. Comes with different sizes ear bud covers and a carrying case.
Warranty Policy: It has a 30 day money-back guarantee.
Features:
Comfortable earbud, gives a snug fit
Clear and distortion free sound
Multiple layers of EMF protection
Magnet-free earbuds
5. Kinden Earbuds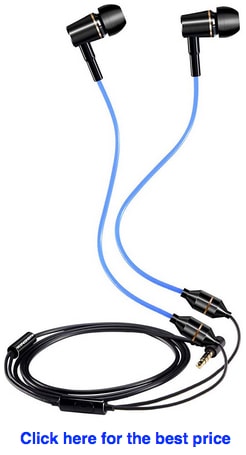 Kinden is a popular brand, and these earbuds is the most affordable on our list. It is a terrific option for anyone looking to try out their first radiation free airtube headset.
Radiation Protection: According to Kinden, this headset blocks 99% of EMF radiation. While the air tubes protect your head, this headset also has shielded wires. This prevent RF radiation from moving up the electrical cord like an antenna, protecting the rest of your body.
Sound Quality: Kinden includes noise-canceling earbuds to keep out interference and ensure clear audio.
Convenience: It has a built-in microphone with a call answer/end switch, 3 sizes of ear bud covers, carrying case, and a really long cord.
Warranty Policy: Kinden has a "risk-free 12-month limited guarantee," in which they will either refund or replace the shielded headphone.
Features:
Lowest price compared to others
Protection against RF and EMF radiation
Comes with carrying case
Comfortable fit
6. RadiArmor Headphones
RadiArmor EMF-free headphone have shielded wires and constant updates to provide better radiation protection.
Radiation Protection: According to RadiArmor they reduce radiation by 97% compared to a regular headphone and 99.9% when holding a cellphone to your ear.
Sound Quality: The newly updated dual drivers are large drivers that allow the RadiArmor headset to deliver excellent acoustics compared to its competitors. The drivers' impressive dynamic range and amplified tremble compensate for high notes lost in the air tubes.
Sound and Call Controlling: These come with all your hands-free needs, including an built in microphone and switch to change volume, answer, and end calls.
Warranty Policy: It also has a 1-year warranty.
Design: These come with a long tangle-free cord and 2 different size silicone earbuds.
Features:
Features volume and call-answering button
Very light, comfortable on the earbuds
Gives a snug fit
Price is good
What Is An Air Tube Headset?
Also known as anti-radiation headsets, are headphones that protect your head from EMF radiation. This occurs via the transmission of sound through air tubes instead of electrical wires.
It functions like a regular headset, compatible with the same gadgets. It works with the same ports, and may even include a microphone. You can consider an airtube headset as a regular headset with wired connection on some parts. The implication of this is that the wire transmitting the sound doesn't reach your ears and head.
The wire connects to a hollow flexible air tube that transmits the sound to your earpiece. It is like a regular headset on steroids, with the primary aim to reduce radiation risk, while maintaining sound quality is secondary.
A regular headset will protect you from some radiation by getting the phone away from your head. Airtubes takes this protection further by getting the highly-conductive wires and the speaker away from your head.
How Do They Work?
The most crucial part of these headsets are the hollow flexible air tube which determines their operation. Unlike a regular headset, the speaker will not be in your ear. Rather, the speaker to an air tube, which transmits the sound as sound waves (instead of electrical waves).
As I stated earlier, it operates as a regular headset, so you don't need to worry about learning how to use it or buying a device to make it compatible with your device. Just plug it in and use the same way you would any other headset.
Headphone EMF Radiation
The first was you are exposed is through the highly conductive wires. These wires serve as an antenna for both sound waves and other signals.
The cables can expose any part of your body they contact to radiation. The bigger problem, however, is transmission of radiation up to your ears.
The second way is through the speakers which are right in your ears and close to the nervous systems is not healthy.
Potential Downsides
There are two main disadvantages of air tube headphones sound quality and durability.
Sound Quality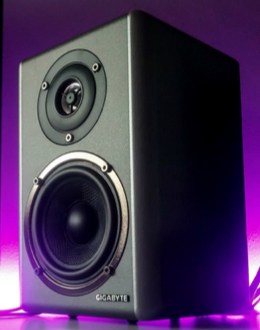 Sound quality can be a significant issue with any headphones, although they get better with updates. This explains how the sound quality of Bluetooth headphones has increased significantly in recent years.
Sound reduces in quality as it travels through the air tubes, but remember that the air tubes primary priority is to minimize radiation. However, in this article, we have good products with decent or good sound quality.
Bear in mind, however, that a regular headphone at their price range will provide superior sound.
If sound quality is at the top of your list then I definitely recommend you get Defendershield's Air Tube Stereo Earbuds because Defender Shield has far superior sound quality to any thing on the market to date.
Durability
Most come with a carry case for easy transportation and storage. The durability issue is a factor because of the rubber tube that makes them more delicate than a regular headset. The rubber tube can easily catch fire or be damaged. So keep this in mind when buying or handling your air-tube headset.
Conclusion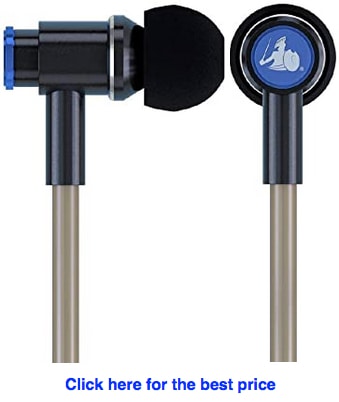 When choosing a radiation-free headset, we recommend that you start at the beginning of the list and work your way down.
DefenderShield's earbuds are my top choice by far. The impressive sound quality and protection makes it stand out in our list.
Whatever you decide, try to buy a set with shielded wires. The air tubes prevents EMF radiation from reaching your head, but it can't stop it from travelling along the lengths of the highly conductive wire.
Your body can still be exposed when it comes in contact with the lower/wired part of your air-tube headset. That's why you need the shielded wires the best EMF radiation protection.
However, if your anti-radiation headphone doesn't have this, then you can use a ferret bead to block out all the EMF radiation from the wire. The ferret bead is a clip that absorbs radiation in the wire, clip it to the base of your headsets, and you are good.
Common Types of Headsets
We can classify the three common type of headset using the table below
| | |
| --- | --- |
| Headset Type | Connection Type |
| Regular Headsets | Wired Connection |
| Bluetooth Headsets | Wireless Connection |
| Air Tube Headsets | Partly Wired Connection |
Regular
In a regular headset, the EMF radiation can travel from your device directly to your head while also exposing every part of your body. That is why it emits the highest levels.
Bluetooth
In a Bluetooth headset, the routers' radiation is lower than that of a regular headset. The air quality, however, suffers. In addition, more users are complaining about side effects like headaches, and there are unproven allegations that it could cause brain cancer.
Air Tube Headsets
By simply putting some distance between the speakers and your head, these headsets reduce the radiation levels by up to 98 – 99.9 %. This makes it safer than the other two options. However, there may be some compromises.