The best EMF shielding fabrics are a great way to lower overall EMF exposure. EMF fabric can be used in many ways to block EMF radiation including on your home's walls, made into blankets, bed canopies or clothing, used as smart meter guards, etc.
EMF radiation is a type of energy that is emitted from electronic devices. It has been linked to a variety of health problems. Something we should all be aware of and working towards reducing in our homes.
Top 10 EMF Shielding Fabrics of 2023
With so many different EMF fabrics on the market it can be overwhelming to choose the best one. I have done plenty of research on this topic for you and here is my top list so you can make sure you can buying high quality fabric that actually works.
Using my guide, and keeping your personal preferences in mind, you should be able to find an EMF protection fabric that will keep you and your home safe for many years to come!
1. TitanRF Faraday Fabric Kit
This fabric kit from TitanRF is laboratory tested and certified as a top-rated anti radiation fabric.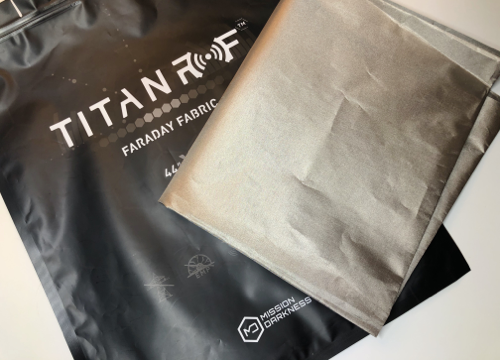 This fabric has been used to make a wide variety of EMF shielded products, including Faraday bags, RF enclosures, EMF deflections, and even signal-proof rooms and tents.
TitanRF fabric is a trusted EMF blocking brand and their products are used by the military to secure communications and block or isolate certain signals.
With your purchase you get a roll of TitanRF tape and 6 Faraday TitanRF patches (4 small and 2 medium). You will also receive instructions on how to use it properly and how to test your EMF shielding fabric.
This fabric's composition is high shielding nickel and copper that will block WiFi signals (both 2.4 and 5GHz, bluetooth, gps, RFID, cell signals (including 5G), radio signals with 90dB average attenuation from low MHz up to 40 GHz). It also has EMI, RFI and EMF radiation shielding.
This fabric is available 4 different sizes from 1 yard all the way up to 50 yards and you can buy extra tape if needed.
Average Attenuation:
80db – 120dB from low MHz-18GHz
2. Amradield Copper Fabric Blocking
This Copper EMF blocking fabric comes in a variety of sizes, making it a great option if you're looking for specific customization.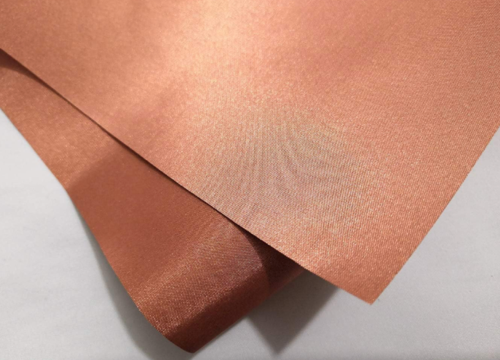 It's also made of copper and polyester and is a great golden color that can add the perfect design touch to any home.
What's nice about this product is it's very easy to cut, making it a great option if you're looking to customize one or many areas of your home or your clothing. Additionally, it's highly electrically conductive, and can be used for grounding purposes in addition to its EMF blocking properties.
Average Attenuation:
Available Sizes:
43 inches x 39 inches
43 inches x 78 inches
43 inches x 197 inches
50 meter long
100 meters long
3. RFID Shielding Fabric (Magnetic Copper/Nickel)
This shielding fabric from Professional Textiles Factory is made of copper, nickel, and polyester, and its silver color is very sleek looking.
It's sold in a variety of sizes, and its copper filaments create a conductive grid similar to that of a Faraday cage.
The RFID Shielding Fabric is easy to cut and sew and can be used for any and all of your electromagnetic field blocking needs. In fact, it's been known to block radiation, microwaves, and radio waves, and can even be used as an insert in a purse or wallet to protect against your credit cards being stolen.
Average Attenuation:
75dB-95dB from 10MHz-18Ghz
Available Sizes:
43 inches x 39 inches
43 inches x 78 inches
43 inches x 197 inches
50 meters long
100 meter long
4. Amradield Soft Conductive Copper Nickel Plated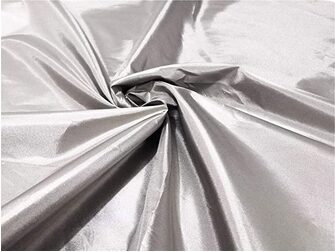 Another great silver option is this one by Amradield is also very easy to cut and sew into any shape you might want.
It's made of copper, nickel, and polyester, and its design also corresponds to that of a Faraday cage.
This highly conductive fabric blocks all types of frequencies, including RF, EMI, EMF, and LF. Additionally, it will also protect you against radiation, radio waves, and microwaves. Utilize it on your walls, your body, or even your cell phone!
Average Attenuation:
Available Sizes:
43 inches x 39 inches
43 inches x 78 inches
43 inches x 197 inches
50 meters long
100 meter long
5. Alfredx Faraday Fabric, Military Grade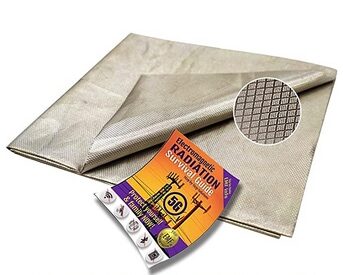 This next product by Alfredx (6% off sale) is military-grade certified, so you can rest assured that, when you purchase, you'll be receiving a quality product.
In particular, this EMF blocking fabric is brown and made mostly of nickel and copper.
The Military Grade Faraday Fabric provides "seriously strong shielding", and can be incredibly helpful in preventing the leakage and information to hackers and thieves.
It's also a superconductor and will absorb any electromagnetic waves that it comes into contact with to help keep you, your home, and your devices safe.
Average Attenuation:
Available Sizes:
1 yard (36 inches x 42 inches)
3 yards (44 inches x 9 feet)
20 yards (42 inches x 60 feet)
50 yards (42 inches x 150 feet)
6. Amradield 100% Silver Fiber Elastic and Knitting Cloth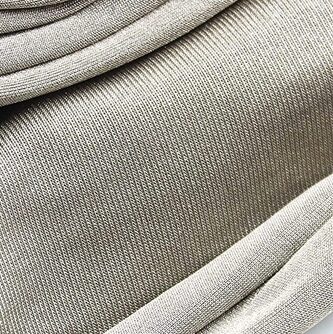 What's unique about this EMF blocking fabric from Amradield is what it's made out of: entirely silver fibers, coated with nylon tricot fabric.
It can also be purchased in three different sizes, making it a great option to check out for anyone who is interested in customizing their shielding fabrics.
As is the case with all the other fabrics on this list, the Amradield 100% Silver Fiber Fabric is great for blocking electromagnetic radiation, radio waves, microwaves, and many other types of signals you might be trying to avoid. And, its slick silver color doesn't hurt its chances, either!
Average Attenuation:
Available Sizes:
59 inches x 20 inches
59 inches x 40 inches
59 inches x 80 inches
7. NEWBEAU EMF Fabric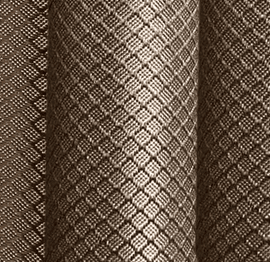 Another brown color option is this shielding fabric from NEWBEAU (20% Off Black Friday Deal), it's made from mostly polyester, with only 20% being comprised of nickel and copper.
This material is a high-quality and high-performance fabric, and has been tested to ensure its ability to protect you and your devices from harmful signals and electromagnetic radiation.
It also has a wide range of uses, from being woven into clothing to being a lining for your laptop case! And, it's easy to cut and customize into whatever size or shape you're looking for.
Average Attenuation:
Available Sizes:
1 yard (44 inches x 36 inches)
3 yards (43 inches x 108 inches)
2 pieces of 1 yard
8. COVA Shielding Material
This fabric by COVA is made of 20% copper and nickel, and 80% polyester, and can be used to combat a variety of magnetic and electrical waves.
It also comes in two different size options and is a nice, solid brown color.
The nice thing about this particular product is it's wrinkle-free, as well as easy to cut and sew.
Because of this, it's a great option to make clothing out of, or to insert in your bags, backpacks, purses, and wallets.
Average Attenuation:
Available Sizes:
1 yard (44 inches x 36 inches)
3 yards (43 inches x 108 inches
9. AMRADIELD Nickel Copper Shielding Clear Mesh Fabric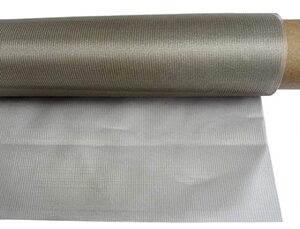 This fabric by AMRADIELD is another product made up of a blend of nickel, copper, and polyester.
This fabric comes in three different sizes and also comes from the Amradield brand.
The conductive grid that is formed from the copper and nickel blend works similarly to a Faraday cage and is great for blocking out any unwanted signals.
What's proprietary about this product is its appearance. While silver in color, it's moderately transparent, which makes it a great choice for anyone looking for a fabric that is slightly see-through.
Average Attenuation:
Available Sizes:
43 inches x 39 inches
43 inches x 78 inches
43 inches x 197 inches
20 meters long
10. FUDALI EMI RFID Shielding Fabric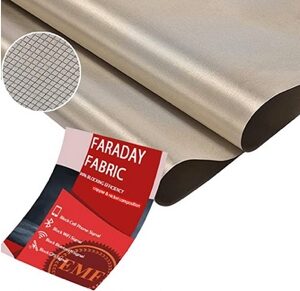 This fabric made by FUDALI is brown. It's made from metallic copper, metallic nickel composition and polyester fiber materials.
It's considered military-grade and blocks 99% of wireless frequencies like electromagnetic field and EMI waves.
FUDALI is a well-trusted company, and the manufacturer offers a 30-day money-back guarantee.
Average Attenuation:
Available Sizes:
44 inches x 36 inches
3 yards (43 inches x 108 inches)
TitanRF Faraday Tape
As mentioned above, when you purchase TitanRF Fabric, you get some of the TitanRF Faraday Tape for free.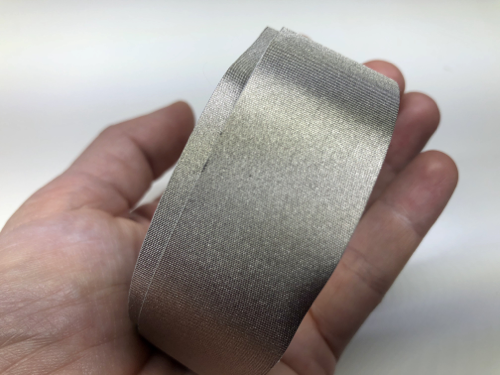 This product can also be purchased on its own here and shares a lot of the same great specifications as the TitanRF Fabric.
It's the easiest way to connect two or more strips fabric and is also lab tested and certified.
Frequently Asked Questions
With more people protecting their homes, I'm being asked quite a few questions about shielding fabrics. Here are the answers to some of those questions. Feel free to send me a message if you still have questions!
How Does Fabric Shield Against EMF Radiation?
The EMF shield fabric is made of a thin and light metal mesh (often silver or copper) or sometimes other material, and can be lined with cotton. This fabric is able to reflect and absorb EMF radiation.
The holes in the mesh are smaller than the shortest wavelength so electric and magnetic waves cannot get through. It actually attenuates the radiation.
Attenuation means it loses its force or power as it goes through the material, scattering the protons and is measured in decibels (dB).
What is the Shielding Effectiveness?
The decibel number has a corresponding reduction of EMF radiation. If the fabric is 10dB it has a 90% reduction, 30dB equals 99.9% reduction. S0 99.9% of the EMFs will not get through the fabric into your home.
Since EMF fabric comes in different thickness and material, they all have different levels of attenuation. Make sure to check the dB for the fabric you are looking to purchase.
Here is a recent study from Drexel University, demonstrating how conductive fabric blocks electromagnetic waves.
How is EMF Fabric Used?
Faraday fabric is used by the Military, law enforcement, forensics investigators and fortunately it's affordable so us common folk can use it too!
It has so many uses for privacy, shielding against EMPs and EMFs.
You can construct signal proof rooms, bed canopies, blankets, floor mats, or make pouches or covers for your router and other wireless devices.
Shielding fabric is used in anti-radiation clothing, hats, Faraday bags etc. Although for these items, unless you're a skilled seamstress, I would recommend buying instead of using fabric to make them.
What do Blocking Fabrics Shield Against?
This material blocks against RF radiation, which includes;
Bluetooth
WiFi (2.4 and 5GHz)
Cellular signals (including 5G)
GPS
RFID
NFC
Radio Signals
This means it will block electronics within your home or office and signals outside your home (like from cell towers), smart technology and smart meters, and give you EMF safe zones.
My Experience with EMF Blocking Fabric
I would be useless with this material without my wife! I am so grateful she can sew and for everything else she does for our family.
She made curtains for the windows closest to our smart meter and a "princess" bed canopy in our daughter's bedroom, which she adores. We also have purchased blocking curtains in our bedrooms.
She used the material to make covers for our WiFi router, and other electronics, and squares that are like mats under all of our beds. We've been talking about creating an entire EMF-free room, draping EMF blocking fabric by the yard all around the room.
All I did was test the RF shielding fabric with my Trifield EMF meter to ensure it had amazing shielding capabilities.
Electromagnetic Radiation Protection in our Bedrooms
We didn't make or purchase blocking bedsheets because we already have grounding sheets and a soft protective blanket on our bed, otherwise we would have.
Since you spend an average of 26 years sleeping, you want to make sure your bedroom is a safe zone.
How do I Choose the Best EMF Shielding Fabric?
When you pick your emf fabric, you'll want to consider how much you need and make sure you buy enough. You also don't want to waste any by getting way too much fabric (although there are plenty of uses for your leftover scraps and pieces).
Other things to consider, include;
Texture – some fabric isn't as soft so not idea if it's going to be used in hats or clothing. Thickness is also a factor.
Attenuation – You'll want at least 20dB (which offers 99% reduction in waves).
Material Transparency – Do you want it to be see through for a canopy or thicker to only let in light?
Cost – it's always something that should be considered.
Washing – Some material is hand-wash only, which will preserve it longer, while others are machine washable.
How do I Know if my Fabric is Working?
The easiest way to test your blocking fabric is to use an EMF meter before and after putting it up to compare the radiation levels. They're easy to use and give clear differences.
Meters are great to have to find the biggest sources of RF radiation around you as well, to find the best use of your fabric or other protective tools.
Another way to check if your material is working is to test it with your devices. If you've made a canopy or a shielded room, what kind of signal do you get on your phone? Can it connect to Bluetooth outside of the canopy?
How Much Does it Cost?
The price varies depending on the attenuation, type of material, manufacturer, and length and width of your fabric. You can buy shielding fabric anywhere from $14 to more than $990 USD depending on the quality and size you need.
What is EMF Fabric Made of?
Most blocking fabrics are made of a metal mesh that is thin and lightweight.
Fabrics in protective clothing and hats often uses silver thread in the mesh with cotton, which makes the fabric breathable, antibacterial, and comfortable.
Some options are highly conductive, made with metals like copper, or nickel, copper, silver or a combination of all three.
DIY RF Enclosures
Making an enclosure or EMF-free space is a great way to keep RF radiation out of a small space or contained within it. You can make small ones like bed canopies or tents or go big and turn an entire room into one.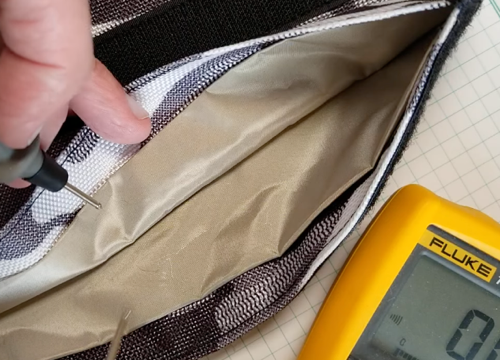 Shielding paint may be a cheaper option for doing an entire room or combine it with blocking curtains if you have windows. But if you rent you likely can't paint so fabric is a good choice for a removable enclosure room.
DIY Faraday Bags
This material can be used to create your own Faraday bags to enclose your phone, keyfob, laptop, router, smart meter, and more.
Conclusion
We can't escape EMF radiation. We're dependent on wireless technology and even if you put your wireless devices in airplane mode or shut them off entirely, you are still exposed to outside radiation.
How many WiFi signals are around your home? Nevermind cell phones, smart technology, and Bluetooth devices.
A great way to protect your home is to use EMF blocking fabric to create safe spaces and reduce exposure from outside.
Shielding fabric is really versatile, with many uses, from clothing, blankets, curtains, pouches, liners, canopies, bags, tents, to complete enclosures.
Hopefully you have someone handy like I do, to use this material to make custom protection around your home because it's a great option to have.
References
https://en.wikipedia.org/wiki/Electromagnetic_shielding
https://drexel.edu/news/archive/2020/december/mxene-emi-fabric