There's a reason the Q-Link pendant is one of the most popular and best-selling EMF protection necklaces available.
Backed by research studies, over 30 years of sales, doctors, the PGA (and over 200 professional golfers) as well as countless other professional athletes, the QRT Sympathetic Resonance Technology really works.
How Do They Work?
At the center of every pendant is a crystalline core that uses Sympathetic Resonance Technology (SRT) to strengthen your natural energy and frequencies, bringing you into a clearer and more balanced state.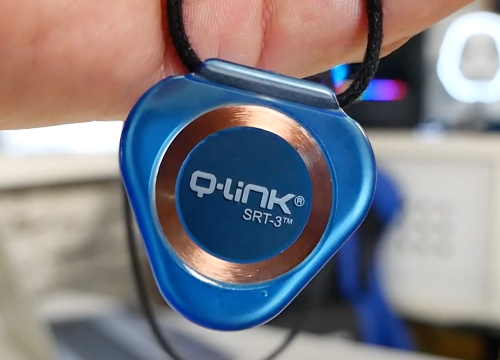 It's programmed with over 100 natural energy frequencies, basically giving you the experience and benefits of being outside in nature anytime you wear it.
Q-Link pendants effectiveness is based on the theory that every living being functions at a specific frequency. Q-Link pendants contain materials that contribute to that broadcasts the frequency – or a close approximation – of the wearer.
Natural materials used to fill these pendants (e.g., crystal, copper, and similar raw materials) contribute their own natural frequencies.
Bottom line is that while it could take a short time to experience this pendant's potential, the more often you wear it, the more in tune you will be with the universe, people in your world and natural phenomena.
Is Q-Link Legit?
If the reviews and reports from thousands of users over 30 years isn't enough to convince you that this pendant is legit. Then maybe the peer reviewed published studies and science will.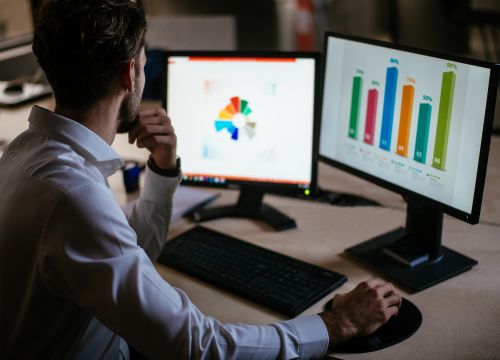 The effectiveness of SRT has been researched at the University of Vienna, Imperial College in London, and U.C. Irvine. Research on it has been published in the Journal of Alternative and Complementary Medicine.
Research has looked at how it helps increase strength and energy, free divers, honey bees, cellular and tissue stress, golf swings, anxiety, skin conductivity, etc.
Further proof of effectiveness is found in the endorsement of the Professional Golf Association (PGA).
What Is a Q-Link Pendant?
According to the UK's Health and Care website, these pendants are accessories worn by people who find that the cacophony of electronic noise surrounding them day and night is mediated by wearing a pendant.
Sympathetic Resonance Technology
Underlying the beauty of each pendant is Sympathetic Resonance Technology that supports and improves well-being.
Some wearers achieve physiological benefits while others derive psychological boosts, frequently described as helping the wearer achieve a state of mind that replicates spending time in nature or being surrounded by loved ones. Q-Link pendants come in myriad designs, shapes, and materials.
Q-Link Benefits
Feelings of calm and balance
A degree of protection against EMF radiation
An increase in your energy levels
Sharpened mental acuity and focus
Less stress, anxiety, and angst
Improved mental and/or physical resilience
Could enhance athletic performance
Confidence that your pendant helps you live your best life
Makes a great conversation starter and fashion statement
May contribute to acupuncture treatment effectiveness
Q-Link SRT-3 Pendant Review
Looking for a collection of Q-Link SRT 3 pendants? They offer a variety of styles and colours to fit all lifestyles and budgets.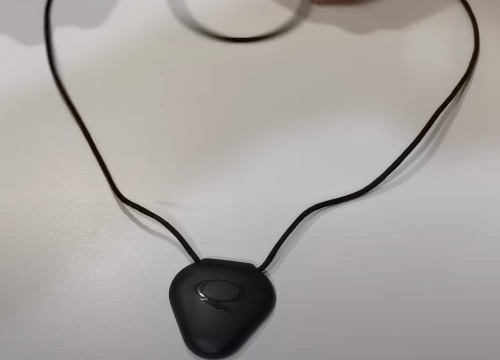 Why wouldn't you want to experience personal well-being while being fashion forward?
Some designs are crafted of acrylic materials that run the color gamut from pastels to saturated primary hues. If you prefer a dressier look, there are plenty of pendants in pearlescent finishes that add a touch of glamor.
You can choose from metallic acrylic pendants as well as glitzy options featuring crystal embellishments.
Regardless of color, a large number of acrylic SRT 3 pendants are embellished with the company's signature gold ring that guarantees authenticity, while silhouettes on metallic options feature a sleek bas relief Q logo.
Folks seeking a more decorative pendant won't be disappointed. Silver, rhodium, and 14K gold options are available, too. If you're the person who likes standing apart from the crowd, you are likely to be drawn to special edition pendant cases like polished gold pebbles, leather, a gold tag and a sacred cross. I should mention that these come with quite a high price tag that no everyone will find appealing.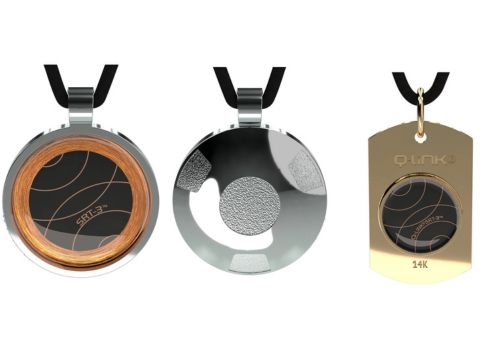 Regardless of whether you are on a tight budget or you don't mind spending more when your personal well-being improves, the Q-Link SRT-3 pendant library of choices has grown over the decades to meet the needs of people of all walks of life, so whether you're perfectly happy with acrylic or nothing but gold will do, there's a pendant in this company's exciting style library that's just for you.
More Q-Link Products
Accessorize your Q-Link SRT-3 pendant by choosing a cord or chain that matches your pendant. Opt for an affordable bead necklace in white, black, or copper or choose a copper, stainless steel, or sterling silver chain.
Q-Link offers leather cords in natural, pastel, and primary hues plus three styles of thick leather stitched cord. Q-Link also manufactures and sells signature adaptors and replacement accessories.
Q-Link Clear – for Devices
Q-Link now makes a compact (10mm) and light attachment for handheld devices, like your phone or tablet.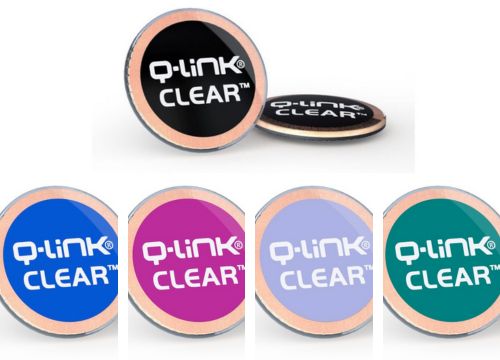 The Q-Link Clear is programmed with over 100 natural frequencies that support your biofield. It strengthens your body's natural defenses against EMFs and other free radicals and oxidative stresses.
Simply attach this discreet disk to your device where it will come in close contact with your body, then use your cell phone as usual.
I don't yet have this product but it is backed by research studies, has the same great technology as the QRT pendants, and comes with a 30 day guarantee.
Q-Link SRT-3 Nimbus
Generate an omni-directional field of SRT-3 by plugging the Nimbus into any USB port in proximity and cover 30-feet of area to generate the protections you seek.
Whether you wish to put space between yourself and stressors in your office, classroom or wherever your computer is engaged, this charging device is essential.
Small, tidy, and compatible with USB ports, no software is needed to power this accessory. The Back-Lit Q-Link logo lets you know when it is time to recharge the unit and when it's not being used, just re-cap and stow it. Crafted of sturdy molded acrylic, this lightweight device comes in 6 subtle colors.
Conclusion
One-quarter of a century of performance and success as measured by brand fans who wouldn't think of operating devices without having a Qlink SRT3 engaged to deliver protections unique to each wearer.
This stunning collection of products delivers form, function, emotional and physical benefits.
This q-link pendant review introduces you to innovative pendant designs and accessories that are currently on the market and so popular, some sell out as soon as they are introduced.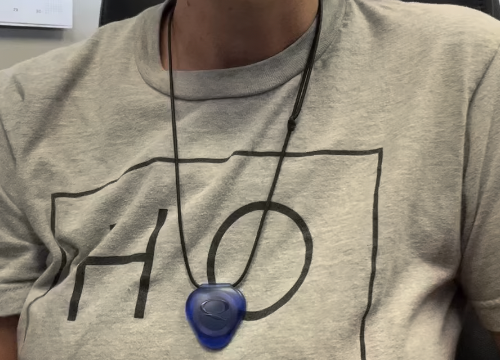 Expect new products down the road, crafted especially for people who have wisely adopted a protective technology mindset and who are not bashful about crediting their personal successes to wearing these beautiful products.
References
https://golfbusinessnews.com/news/corporate/the-q-link-phenomenon/
https://www.seattletimes.com/business/anti-stress-pendant-did-what-it-promised/