The best Faraday duffel bags (or duffle bags) are necessary for your personal protection. They prevent your phone, tablet, and laptop from being tracked and hacked, and protect your devices from EMPs and CMEs (more about these below).
These bags reduce the EMF emissions you absorb from your electronics too, giving you so many forms of protection from a very useful bag.
Trusted By The Military For Security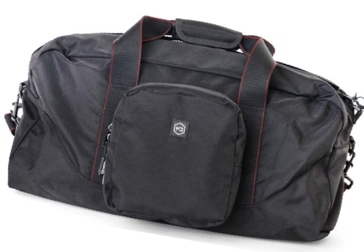 They are used by military, law enforcement, government officials, and 'important' corporate people to keep their information secure.
If they're using them, why shouldn't you too?
With many designs, features, and sizes to choose from, here are my recommendations for the best bags to help you find the best one for your needs.
Quick Answer
The highest rated Faraday Duffle Bag is the X2 by Mission Darkness. This bag is large enough for multiple devices and includes an additional Molle pouch on the front that you can detach and use separately. Two bags in one!
1. Mission Darkness X2 Faraday Duffel Bag
The best Faraday duffel bag is the Mission Darkness X2 duffel Faraday bag that comes with a detachable MOLLE Faraday pouch. I give this a 4.7 out of 5 rating. It shields 5th generation devices against EMF and has the best Faraday quality available.
I like this bag because it looks just like a regular duffel bag so when you are travelling around with it nobody knows what it is. I like that the top closure is magnetic that folds down and seals with a sturdy zipper.
It has a flexible detachable Faraday pocket for secondary shielding and packs like a military mole bag. The bag is large enough to hold multiple cellphones, laptops, transponders, and other bulk electronics.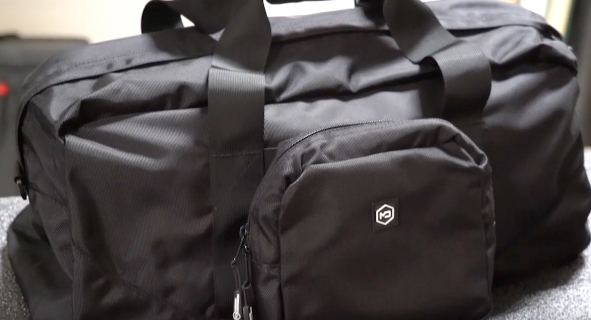 Blocks All Wireless Signals
The bag blocks all wireless signals completely like Bluetooth, GPS, wifi, e.t.c. It has two handles that make it heavy-duty and comfortable to carry. It also has a detachable shoulder strap, transparent branding pocket, MOLLE webbing, and an unshielded compartment accessory zipper.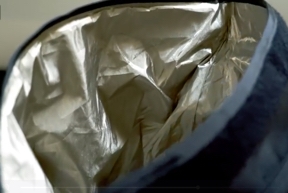 The main duffel has the Faraday fabric sewn in dual paired seems for top-notch protection.
The main compartment has an average level of shielding of about 70dB, and it lays flat when not in use, so you can roll it and fit the bag elsewhere for easy transportation when empty.
Dimensions
The main duffel has a compartment that measures approximately 26" × 13" × 13", and the detachable MOLLE Faraday has a capacity of about 8" × 6" × 2". When rolled, the main duffel can be at around 26" × 5" × 5".
The shoulder strap has metal hardware which makes it heavy-duty and also easily removable. The bag is ideal for military operators, especially those in charge of setting up critical electronic devices for research, a mission, e.t.c. The shoulder strap is also detachable for executive travel, forensic, personal security, e.t.c.
The outer material of the bag has water-resistant and has ballistic nylon, which prevents your gadgets from soaking while they are in the bag. It also enhances digital privacy by having EMI, EMP, and EMR protection.
Anti-Hacking, Anti Spying and Anti Tracking
The bag gives you anti-hacking, anti-spying, anti-tracking assurance, which makes it ideal for military grab-and-go applications in case there are missions.
The counter-surveillance features make it perfect for data protection during executive travel, making it impossible for spies to retrieve critical data from your electronic devices.
Unique Serial Number
The X2 Duffel bag Faraday has a unique serial number that creates a chain of custody and makes it simple to track if it is lost or travelling without its owner. It also contains an outer shielded zipper pocket which secures accessories effectively.
The transparent closable pocket on the back of the back is ideal for putting agency information for seamless identifiable of the bag.
Detachable MOLLE Faraday Pouch
If you are military personnel, police, or any government agency, the bag blends in very efficiently when travelling in plain clothes.
On the other hand, you can also use the MOLLE webbing to place the MOLLE Faraday pouch on your tactical vest if you are in military or police uniform. The MOLLE webbing at the front side ensures ease of accessibility and efficiency during military operations.
The X2 duffel faraday bag is the most exciting and versatile bag for use by many groups or organizations around the globe.
It can meet your shielding needs efficiently and has a spacious enough interior for your electronic equipment. The unique functionality of the bag ensures that your devices are silent and safe during travel or storage.
2. Mission Darkness Padded Utility Faraday Bag
The Mission Darkness Padded Utility Faraday Bag has a unique design to shield critical electronics such as rangefinders, digital cameras, scope screens, and night vision optics powered by batteries from radio signals.
The bag also prevents small tablets, cell phones, keyfobs, and other related devices from wireless signals. In the chain of custody corruption, the bag prevents spying, tracking, and hacking.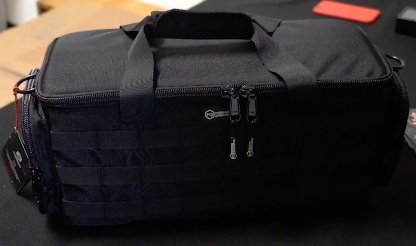 Military, Law and Preppers
The bag suits the needs of military missions, law enforcement, preppers, and other related fields. It ensures digital privacy and protects electronic devices from damage by EMPs.
It guarantees protection on how electronic devices get stored and transported. When the devices are in the bag, there are no cases of data theft and forensic evidence collection.
A durable outer shell made of duffel Faraday material provides multiple layers of protection. In addition, the bag has MOLLE webbing and two unprotected side compartments with zippers that secure it well. You can attach the MOLLE packs to the three sides of the bag for efficient transportation.
CME, EMI EMR and EMF Shielding
The bag offers CME, EMI, EMR, and EMF shielding and has extremely padded inside walls for maximum protection of the contents you are carrying.
It has a removable faraday liner made from TitanRF fabric with double seam paired construction that offers high levels of shielding. The bag has excellent padded strapped handles for easy transportation.
It is ideal for grab-and-go missions, personal security, especially for plainclothes operator journeys and executive travel.
It has unique functionalities that enhance counter-surveillance for the state, local, and federal forensics investigators. It has an average attenuation of around 90dB and low MHZ to 40MHZ.
Dimensions
The bag has a capacity of internal dimensions of 16" L × 6" W × 7.5 " H without the padded liner. When the bag is with the padded liner, it has internal dimensions of 15.5" L × 5.5" W × 7" H. It can carry any large device and others, such as two-way radios, fragile wireless devices, GPS units, thermal cameras, and many more.
Padded Walls
The bag has padded walls and separators, which are removable for maximum flexibility. You can transport any delicate items with or without the padded walls and removable liners and inserts.
The durable outer shell also offers rubber feet at the bottom for maximum protection while placing it on the ground.
The faraday lining closes with velcro and a double roll, and the outer shell zips up tightly to secure the inside contents. It is ideal for chain custody since it has unique serials for easy tracking and identification of ownership in case you lose it.
3. Silent Pocket Faraday Dry Duffel Bag – 40 Liter
The Silent Pocket Faraday Duffel Bag is excellent for safety, privacy, and security. It works to protect your privacy by blocking GPS, WIFI, Bluetooth, NFC, RFID, EMP, key fob, 3G, 4G, 5G, and EMF protection radiation.
The Mutishield functionality ensures personal security and ease during executive travel.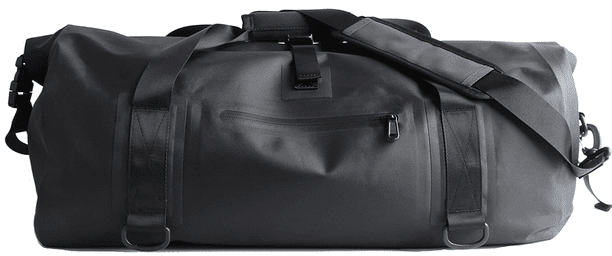 It is stylish with back padding designs and comfortable padded handles that make it easy to carry bulk contents. It has YKK zippers that are waterproof and a shell of 420 denier nylon 100% waterproof. You can travel stress-free on rainy days, knowing that the contents in your bag are dry.
Dimensions
The bag is lightweight and durable, ideal for grab-and-go military personnel missions. It can carry just about anything you need, both large-sized and small-sized electronic gadgets.
The external dimensions of the bag are 23.6 × 11 × 11, 60 × 28 × 28cm, and the internal dimensions are 23 × 11.8 × 11.8, 59 × 30 × 30cm. The silent pocket Faraday duffel bag boasts a wide range of high-quality materials for both durability and safety of the contents in the bag.
The bag also ensures health protection by preventing the emission of harmful radiation from the devices to your head and body.
You can gain peace of mind while travelling since your information is safe from pickpocket thieves, damage by malware, and hacks. It is the ideal solution to confidential meetings, missions, and business operations.
SGS Lab Testing
The bag has undergone thorough testing by SGS lab testing for effectiveness, SGS lab testings for 65 complaints, and testing by the government, law enforcement, and armed forces clients. It guarantees satisfaction to users due to its unique features and capabilities.
The bag is also suitable for your daily life since it is soft and flexible, ensuring nothing scratches your devices. It gives maximum protection from identity theft and can hold devices anywhere, from desktops to phones and laptops.
How Do Faraday Duffle Bags Work?
These bags essentially have a Faraday cage built into them. There is conductive RF-shielding material on all sides (the best have multiple layers) to fully seal the section of the bag. The closure isn't just a simple zipper, it has to fully seal that compartment.
Block All Wireless Signals
This blocks signals, including WiFi, cellular, Bluetooth, GPS, RFID, NFC, 5G, and keyfob from penetrating into your bag and reaching your devices. It also means your electronics can't send out signals either. Signals will hit the conductive material, circle around the cage and basically bounce off.
How Well Do They Protect Against EMF Radiation?
Since your phone or other electronics are always giving of EMFs and can cause serious health issues when carried close to your body, these bags are a great way to keep your devices close but safe.
They don't reduce emissions to 0 but are the best option out there right now. Since signals can't get through the bag, you're exposed to minimal RF radiation.
Quality, seal, and age are all factors in how well it reduces the radiation emitted. Holes mean your bag isn't shielding fully but these bags are built to sustain a lot of wear so it'll take a lot to damage them.
What are the Features of the Best Bags?
There are so many features in these bags. Here are a few things to consider when choosing yours.
Size – How big a bag do you need?
Number of compartments and pockets
Number and size of Faraday compartments
Material used – waterproof or water-resistant, weatherproof, all-terrain
Number of Straps – do you want it to function as a backpack too?
Molle pouches and detachable compartments
Look – are you looking for a stylish bag or an all-terrain survival bag?
Other Faraday Bag Options
If you're looking for another bag to go along with your duffle, or another shielding bag instead, you're in luck. There are lots of options for you. There are small pouches to fit just your keyfob or smartphone.
Other choices include backpacks, purses, manbags, laptop bags, dry shield, tactical or utility options, security boxes, and even gigantic bags that will hold solar panels, generators, servers and other large electronics.
How Much Do Faraday Duffel Bags Cost?
The price of Faraday duffel bags ranges from $259.00 to $349.00 USD.
Summary
With the amount of hackers out there, security for your electronics and personal data is a must. Knowing the risks of EMF radiation, it's a smart idea to purchase protective measures for your electronics.
And if you're concerned about an impending EMP, like me then this is a great item to have in your home. If an EMP were to occur, your electronics won't be destroyed.
List Of Top 10 Faraday Bags
If you are looking to protect your other electronic devices check out my top 10 list for faraday bags here.
A protective duffle bag can hold several of your devices (including laptops, tablets, cell phones, key fobs, cameras, etc).
They offer spacious interiors and can hold a variety of items. Everything you need while travelling, going to work or school, for prepping, etc.
All the on my list are products are made from high-quality materials and designed to last. They have gone through testing to show they work at blocking signals and can withstand all kinds of conditions. They're made by companies I trust and have purchased several products from.
References
https://www.eagletimes.com/tracking-and-hacking/article_c2e69193-f988-51ab-8787-df30314c5481.html
https://news.uchicago.edu/story/how-hackers-could-use-wi-fi-track-you-inside-your-home