Your electronic devices are susceptible to digital attacks when left unshielded. Keep them protected inside your Faraday backpack to prevent device hacking, location tracking, and identify theft.
Protect yourself and eliminate your exposure to EMF radiation from your electronic devices by keeping them inside the Faraday RF-blocking compartments of your bag.
Top Rated Faraday Backpacks
You want the highest quality bag with proven EMF protection so here are the best Faraday backpacks available for 2023.
1. Mission Darkness Dry Shield Faraday Backpack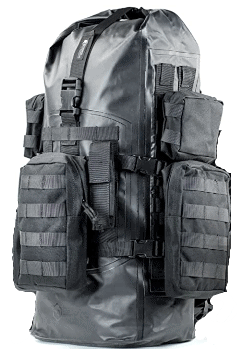 The shielding backpack at the top of my list is the Mission Darkness Dry Shield Faraday backpack. Mission Darkness has the most advanced wireless device shielding technology and is the gold standard for RF-Shielding. It is used primarily by law enforcement and military forensic investigators.
Designed with two interior layers of high-shielding lab tested and certified TitanRF Faraday fabric, it completely blocks all wireless signals, 100% shielding you from Wifi, Bluetooth, 5G, and all EMF radiation.
The RF Shielded interior also blocks your electronic devices from hacking, spying, tracking, and data theft, allowing you to have digital privacy.
This Faraday backpack is a military grade dry bag, made of high quality materials with a waterproof and weatherproof exterior. It's also comfortable with load-bearing adjustable shoulder, chest and waist straps.
It is a 40L extra large bag, with MOLLE Webbing on three sides, detachable pouches, so you can add extra Faraday pouches, unshielded pouches, or tactical holsters to customize your bag for your needs.
This is a serious, top of the line bag with complete EMF protection.
2. Barrier Bag (20L)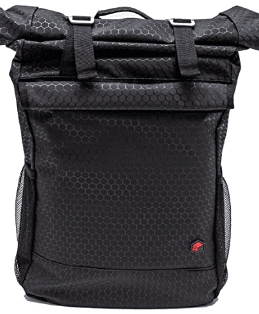 Second on my list is the Barrier Bag 20L Faraday Backpack. It's on sale currently on sale for an instant $25 off for a limited time.
This bag comes with two faraday pouches, lined with signal blocking mesh.
It completes kills any WiFi, Bluetooth, GPS, Cellular, and RFID signals and RF frequencies up to 6GHz.
Made of durable material, it is rip and water resistant, comes in multiple colours, and has a roll-over closure design to ensure there are no signal leaks.
Spacious design with a third larger marsupial compartment, it can easily fit a 17 inch laptop.
Have peace of mind while travelling and protection from hackers, being tracked, and spyware, all while protecting yourself by reducing your EMF exposure.
3. Faraday Defense Black Stealth 17L EMP
Next on my list is the slightly smaller Faraday Defense Black Stealth backpack. At 17L, it can easily fit tablets, laptops, gear and more.
Made with triple layer Faraday CYBER NC Fabric, it has specialized layers of metal-plated fabric with nickel and copper shielding components, blocking signals from inside and outside the bag.
The Faraday Defense backpack blocks WiFi, Cell signals, 5G, Bluetooth, GPS, and RFID.
Designed specifically for the military, law enforcement, and government, it is meant for personal data security, EMF and EMP protection, and signal isolation.
Waterproof and heavy-duty, this bag has a Tarpaulin exterior, dual clip roll top closure and is built to block signals.
4. Dry Shield Faraday Tote 15L
Although not a backpack, this Faraday Dry Shield Tote by Mission Darkness is worth mentioning as it is a very popular and highly rated Faraday bag. It comes with a removable shoulder strap making it easy to carry around on your back.
Designed with feedback from the military, this ultra durable bag fits most laptops and other handheld electronic devices or survival gear with a 15L capacity and flexes to fit bulkier items. It also folds flat when not in use so great to take with you when travelling.
With two layers of lab certified TitanRF Faraday fabric it has a very high RF-shielding interior, blocking WiFi, Bluetooth, Cellular signals including 5G, GPS, RFID, and Radio signals all while protecting you from EMF and EMP radiation.
Made of ultra durable 500D PVC material, welded seams and a roll and clip closure seal, this bag is completely waterproof, sand proof, snow proof, dirt proof, contaminant proof and instantly blocks out any wireless signals.
Mission Darkness is one of the best brands for Faraday products which is why they have 3 bags in top rated faraday backpacks list. They also have an app for you to test the signal blocking strength of your bag, look for Faraday Test in the app store.
5. Silent Pocket Faraday Waterproof Backpack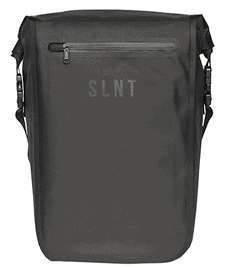 The Silent Pocket Faraday backpack is the only bag using a patented Faraday Cage system. It instantly blocks 100dB+ Cellular, Wifi, Bluetooth, GPS, RFID, NFC, Key Fobs, EMP, and Solar Flare.
This technology protects you against wireless threats, including hacking, scanning, data extraction, eavesdropping, and reduces EMF exposure, providing you with security, peace of mind, and keeping your data confidential.
It is lab tested and used by Special Operations, Homeland Security, Military, Law Enforcement, Business Leaders and Journalists.
Waterproof to protect your electronics and valuables, and made of high quality Rip Stop 400D nylon with RF welded seams and high tension thread, these bags are durable, incredible quality and built to last.
This backpack is 20L, measuring at 15x15x3 inches and can hold up to a 17 inch laptop.
If you're looking for other Silent Pocket products, their line includes duffel bags, dry bags, phone sleeves, laptop sleeves, tablet sleeves, key fob guards, wallets, privacy stickers, and more.
6. MissionDarkness FreeRoam
The Mission Darkness FreeRoam Faraday Backpack is the most stylish RF-shielding backpack I've found.
Made with military strength double layers of TitanRF Faraday fabric but combined with consumer aesthetics, this bag is great for everyday use, including work, travel, school, and really in any non-secure environment.
Providing you with instant anti-hacking, anti-tracking, anti-spying, anti-contact tracing and theft protection. Reducing your EMF exposure and giving you EMP protection. Have digital personal security wherever you go.
This bag measures 16×10.5×4 inches with a roll top closure, hidden magnetic seam and a spring hook to maintain the RF-shielding seal. It can fit bulky items and has a padded sleeve for laptops up to 17".
Like all Mission Darkness products, this backpack is certified lab tested and used by military and law enforcement. With a great reputation and quality products, you can't go wrong with a Mission Darkness Faraday bag.
Mission Darkness has a full line of shielding bags of all sizes and needs from key fob to laptop bags and duffle bags, solar panel bags, and so much more. They also carry a full line of EMF protecting apparel.
Looking for Additional Faraday Bags?
If you're also looking to grab another type of Faraday bag specifically for your cell phone, laptop, key fob etc, then check out my top 10 Faraday bags here. Or my list of the best Faraday duffle bags.
References
https://techcrunch.com/2020/12/11/here-comes-the-faraday-fabric/
https://www.howtogeek.com/791386/what-is-a-faraday-bag-and-should-you-use-one/