The world is growing fast, thanks to digitization. While this is a good thing, there are adverse effects to being surrounded by gadgets every day. Your laptops, cell phones, microwave, Wi-Fi router, and that cell tower near your home or office have potentially harmful effects. This is because they emit different forms of radiation in various intensities.
An EMF blanket is designed using protective sheets that block radiation frequencies from getting to us. Therefore, for your peace of mind, you should get one that keeps you safe. Here are seven frequency blocking blankets you should consider investing in.
Best EMF Protection Blanket
While scouting for a protective blanket, you need to ensure that it is designed for your protection. You need to find out the type of EMF shield it uses, its size, and fabric.
1. DefenderShield EMF & 5G Radiation Shielding Blanket
Available in grey, this EMF and 5G shielding blanket by DefenderShield is a good option if you are looking for a multipurpose blanket.
Available From:
It is made from 100% hypoallergenic soft organic bamboo material that is soft on your skin.
This comfortable exterior covers a double-layered EMF shielding fabric made of silver and cotton that can keep out frequencies of up to 10GHz.
You can get this 0.3-inch blanket in three different sizes. The small blanket measures 36 by 35 inches and weighs 1.38 pounds, perfect for your baby and pregnancy protection. The full size, weighing 4.5 pounds, measures 75 by 53 inches, while the queen size, 80 by 60 inches, weighs 5.1 pounds.
The only disadvantage of this blanket is that you cannot wash it with a washing machine. Nonetheless, it is still easy to clean. Click here to find the best price.
2. Mission Darkness TitanRF Radiation Shielding Throw Blanket
Made by Mission Darkness, this standard size, 50 by 60-inch blanket is built to keep you both safe and comfortable. Click here to check it out.
Its exterior is made purely from polyester microfiber, making it one of the softest protection blankets in the market.
While it is only available in reversible grey and white, this throw blanket is wrinkle-resistant, making it machine-washable.
Its protective shield is made from a double layer of tested Titan Faraday fabric which keeps off up to 40 GHz of harmful radiation frequencies.
The blanket comes with a sample that you can cut open to inspect the inner layers for quality to check their validity. The only downside is that it is pretty heavy. Either way, it is still suitable for traveling and home use. Click here to find the best price.
3. Breeze Baby EMF Protective Blanket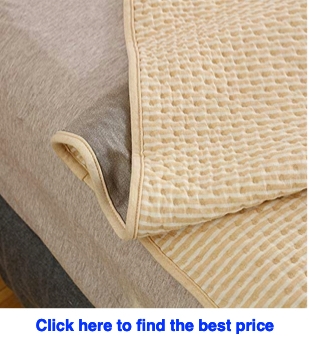 Made by Breezy Baby, this lightweight blanket is the perfect travel companion. It is 0.01 inches thick and measures a rewarding 60 by 78 inches. Click here to check it out.
Unlike most protective blankets on the market, it is made from silver fiber.
This makes it one of the most efficient shield blankets for radiation frequency reduction.
The exterior is made from organic cotton with a soft, skin-friendly finish.
However, if you are color-specific, this blanket might disappoint you as it's only available in beige, with a thin tan on the inner side. Click here for the best price.
4. EMF Blanket – Radiation Shielding
This dark grey Steel Gray EMF blanket is manufactured by EMR Shielding Solutions, a leader in its field.
Weighing 0.96 ounces, this blanket is 0.01 Inches in thickness and 78.7 by 55.1 inches in size. It is made of a mixture of cotton and polyester, making it very easy to clean.
Its shielding component relies on stainless steel for adequate protection against high-frequency radiations.
While it offers good protection, there are some downsides to this blanket. First, you have to ground it for protection from low frequencies. Otherwise, it blocks high frequencies with or without grounding.
Secondly, the steel gives it a rough wool-like feel, making it quite uncomfortable if you have sensitive skin. However, you can use it with another more comfortable blanket. It is good for multitasking, given its 9.6 ounces.
5. SHYZ EMF Protection Blanket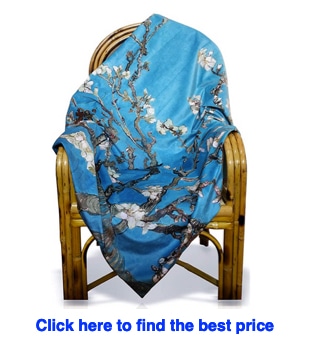 The SHYZEMF protection blanket is arguably the most appealing of all EMF blocking blankets.
SHYZ designed it from decorated sapphire blue Dutch flannelette with a soft silky feel. Click here to see it.
Its microfiber fabric protective layer offers toxin-free protection from EMF and other cellular radiation.
Apart from the great aesthetic, this blanket has other unique properties.
The protective sheet is detachable, thanks to eight bucked buttons. This makes it easy to machine wash and change the blocking sheet when the need arises. Click here to get the best price.
Best EMF Belly Blanket
When protecting your unborn baby or young kids, you need to go for a belly blanket with a good reputation.
6. Radia Smart 5G Anti-Radiation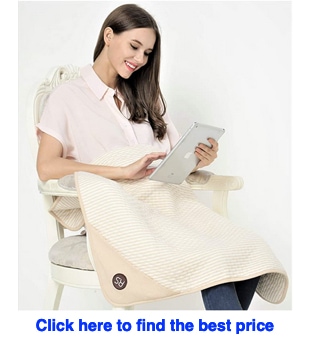 Developed by Radia Smart, this tested blanket provides you with utmost protection from frequencies and radiation. Click here to check it out.
Its 35 by 30 inches size makes it great for covering your belly bump as you use your laptop or tablet.
This blanket is soft, thanks to its organic material, thus perfect for covering young children.
It is lightweight at about 500 grams and is available in different colors, including silver, ivory, and cream red.
For maximum protection, it has a silver shielding that is fitted edge to edge for maximum protection. Unfortunately, you cannot dry clean, or machine wash it. Click here to find the best price.
Best New Born EMF Protection Blanket
Your newborn child is highly susceptible to harmful radiation from your gadgets. To keep them protected, you need a blanket that is both gentle to their skin and defensive against EMFs.
7. Armshield Anti-Radiation Baby Blanket
Designed for your baby's protection by Conscious Ideas, this light but thick, 30 by 35 inched protective blanket is a worthy investment. Click here to check it out.
It is available in four striped colors, grey, blue, beige, and pink, and weighs 0.176 ounces, making it great for traveling. You can use it in a cot, stroller, or in a carrier to keep your baby protected always.
Its 100% pure cotton makes it gentle on your child's skin. It also has a protective layer that is made from 100% pure silver, thus offering 99.9% protection for frequencies up to 8GHz. Unlike most of its competitors, it allows for machine wash, making it easy to clean. Click here to get the best price.
Pro Tip: Bed Canopies and Grounding Sheets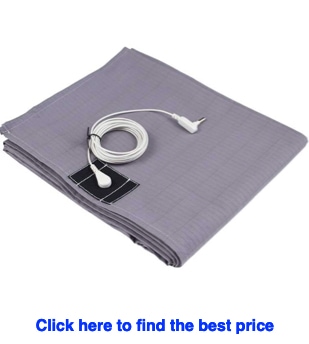 While using EMF blankets offers a significant level of protection, there are other ways you can boost this. For full protection, you should get the best emf bed canopy and grounding sheet that you use as a bed cover.
One of the best grounding flat bed sheets are by a brand called Conductive. It is available in different sizes and also has accompanying pillowcases for added protection. Click here to check it out.
This sheet is very easy to clean, given that it is made of 95% cotton and 5% protective silver. To use it, you connect it to the grounding hole in your wall socket, and you are protected for the night. Apart from providing protection, grounding sheets help you sleep better, lower your stress levels, and aid with injury recovery. Click here to get the best price.
Test Your Blanket With An EMF Meter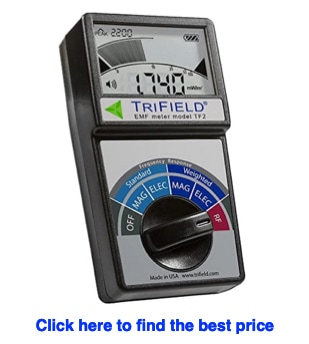 Given that radiation has become a real challenge, you should trust a blanket that offers you maximum protection. For this, you can use my favorite meter, the TriField TF2, to test just how reliable it is. It has a three-in-one design to detect AC magnetic, AC electric, and RF from your microwave.
It is an easy-to-use, long-distance density meter that runs on a 9V battery with a long lifespan. Among other advantages, it is highly sensitive and portable, so that you can use it anywhere and at any time. Click here to see my list of the best emf meters of 2021.
Wrapping It Up
Since daily exposure to frequencies like 5G can affect your body at cellular levels, it is important that you keep as safe as possible. As you go shopping for a protective blanket or fleece, consider my seven picks for you and your family. Don't forget to test the blanket with an EMF meter and boost your protection with a grounding flat sheet.